Welcome to "Dirty Dan's Korner." "Dirty Dan" is a connoisseur (connoi-sewer?) of straight-to-video softcore, "pink" movies. If you are easily skeeved-out, please, SKIP HIS REVIEWS! -- Otherwise, enjoy "Dirty Dan's" evaluation of movies that are the male equivalent of women's romance novels. In other words, the sex without the romance. It ain't pretty. Of course, all of "Dirty Dan's" opinions are his own. Ick...
Naked Killer/Chi Luo Gao Yang (1992)
Directed by Clarence Ford (AKA Clarence Fok Yiu-Leung)
Starring Chingmy Yau, Kelly Yao (AKA Wai Yiu), Carrie Ng, Madoka Sugawara (AKA Madoka Sawara or Svenvara Madoka), Simon Yam, Ken Lo
There's not one redeeming thing about "Naked Killer." It's a sleazy 93-minute roll through a cinematic cesspool of crass exploitation. On top of that, it's just plain weird. I whole heartily recommend adding it to your personal collection of Far East "pink movies" (right next to "Big Boobs Buster" and Zero Woman 2. I'd tell you what the plot is but after seeing "Naked Killer" I don't honestly know and don't really care. It's not that kind of movie. It has something to do with an impotent cop and his relationship with a woman who falls in with a pack of lesbian assassins; meaning lesbians that are assasins, not assassins who kill lesbians, just to be clear. Everything else about what's going on is pretty frickin' unclear.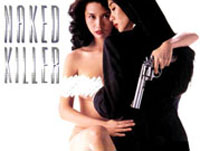 The jacket of the DVD says, "Kitty (Chingmy Yau) takes bloody vengeance for her father's murder, and finds herself wounded and on the run from the Hong Kong police. She comes under the wing of Cindi (Kelly Yao). Also, cutting a gory swathe through Hong Kong's most corrupt criminals is lesbian hitwoman Princess (Carrie Ng), aided and abetted by her sidekick (Svenvara Madoka). The cop assigned to investigate the murders, Tinam (Simon Yam), is still traumatised by the shoot-out that led to his brother's death. He falls for Kitty's seductive charms, and finds himself caught in cross-fire between the various feisty femme fatales. Director Clarence Ford's camp classic has become the subject of a worldwide cult following."
Uh, yeah... sure...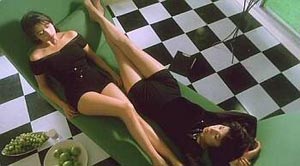 One thing I can tell you is that whoever wrote the synopsis for the back cover of the DVD didn't write the subtitles for this flick. The gramatical errors on the DVD jacket are nothing compared to the gaffs in the subtitles for this flick. If you've ever read instructions for putting together models from Japan or Germany then you would be familiar with the phenomenon known as Japlish or Germlish. This is where someone with minimal English skills is given the unenviable task of translating his/her native tongue into our quirky language. "Naked Killer" is a primo-example of Chinglish (Chinese to English). I'm including some examples from the first few scenes of the movie. All these quotes are exact (no typos - not mine, at any rate) and also notice the wild overuse of exclamation points. Remember, I'm just transcribing what's there on the screen.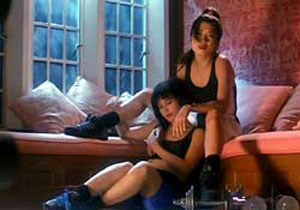 In the opening scene, we follow Princess, played by luscious Carrie Ng, as she assassinates some mob punk. Princess is in the dude's shower when he discovers her. She proceeds to shoot him in the knee caps before crushing his head with the aid of a couple of barbells. For good measure, she shoots him in the crotch. As his vision blurs, we see his point of view of Princess as she spins the gun on her finger. The whole room starts to spin with the gun. There's "artiness" to the action and violence. First we are shown some nudity, followed up with a little blood, and then a swift kick in the balls. All done with a certain amount of panache.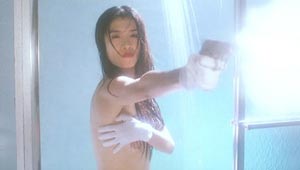 From that, we cut to a group of cops checking out the scene of the crime. Simon Yam plays a "talented" but disturbed maverick-cop who has a confrontation with his boss over who the killer(s) might be. To say the cop portion of the plot is cliched is not doing it justice. It is way beyond cliched, not to mention moronic to an extraordinary degree. It's charm is in it's cluelessness. It's precious.
--------------------
Here's some of that snappy dialogue I mentioned earlier:
Officer Lee: It's such a cruel murdering, but there is any clue left!
Tinam's Buddy: Damn it! The murderer is cold-blooded! The murderer even broke the man's dick!
Tinam starts theorizing that the castrating murderer is a woman or a team of women.
Officer Lee: Tinam, take more rest!
Tinam: But now I am normal!
Cop-bystander: You killed your own brother two months ago. How can you be normal in such a short time?
Tinam: What are you talking about? I wanna kill you if you don't shut up! Officer Lee, It's an accident, you know it!
Officer Lee: Yes, for this case, the ordinary people will never forget! I make you resume duty soon, is giving face to your passed brother.
Tinam: Damn!
Officer Lee: In fact, you should take six months more psychotherapy.
Tinam: But I am normal now!
Officer Lee: You claim yourself normal? You don't even know how to hold a gun! Are you normal? Not any nuts will admit they are nuts! You are transferred to Anti-vice Dept. from next week. You should not follow this case! Have you hair cut and shave, you will look better.
--------------------
Well, what can one say? I'm not complaining, though. A large part of the fun of watching a movie like this is the perplexing subtitles. It's like someone took the dialogue, cut it into little tiny bits, and rearranged the fragments just to see if any new and interesting combinations resulted. You know what? They did! Cantonese to English subtitles provided by mad lib!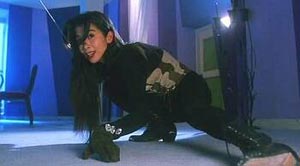 The fun doesn't stop with just dopey dialogue. Chingmy Yau, Carrie Ng, and Madoka Sawara are hot chicks and when they're not shooting up or castrating the bad guys, they're busy pulling each other's clothes off. As far as acting goes, I didn't really buy their supposed lesbianism (excluding Madoka Sugawara's squirmy performance under Carrie Ng's attentions) but this movie has taught me that I'm shallow enough not to give a shit. And that's the point! Like any classic, it teaches you things about yourself that you hardly knew, even if those things fill you with shame. These are the scenes in "Naked Killer" that I watch to help me get to sleep. It's this journey of self-discovery that convinced me to recommend this howler.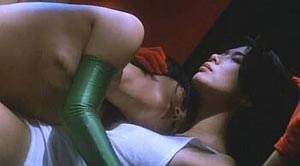 Besides unreal sex scenes, expect to see lots of unreal and bizarre violence. Asian cinema often feature topics that are taboo in Western movies. Rape rears it's ugly head all the time and is handled in a purely exploitative fashion. Also, sexual mutilation is frequently threatened or done in "Naked Killer". The main character, Kitty (Chingmy Yau), on more than one angry occasion, says she's going to "burst the tits" of her mentor, Sister Cindi. Kitty does more than threaten when she uses a number two pencil to scramble the eggs of the man who accidentally killed her dad. Despite the graphic nature of the violence, it's highly stylized and seems to be taking place in a dream, or nightmare, or a bad movie, if you know what I mean. It ain't no "Saving Private Ryan". "Naked Killer" is like the goofy Chinese sister of the Japanese film Zero Woman 2. Speaking of the Japanese, a couple of times during the course of "Naked Killer" the lesbian assassins talk about "the Japs" (devils). Political correctness hasn't infected Hong Kong, yet, (or "HO") but dialogue like that tends to grate on the ear.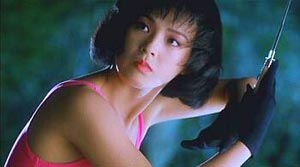 --------------------
Speaking of grating on the ear, here's some more of the zippy dialogue. This is Kitty's introductory scene. She is having her hair done by an effeminate hairdresser. Tinam is also there getting a hair cut. Most of the dialgue is between the hairdresser and his preggers girlfriend.
Pregnant woman: Why don't you call me these days?
Hairdresser: Don't you see me working hard? I will call you later.
Pregnant woman: Do you want to brush me off because I am pregnant?
Hairdresser: What? You mean it's my baby? How can you prove it? You always fool around, I wonder it's the baby of the rascal!
Pregnant woman: Are you framing me?
Kitty: Girl, take the abortion in Shunzhen, that's easy! Why bothering us?
Hairdresser: She is my girlfriend only. How dare she frame me!
Pregnant woman: I have lived with you for half year! You are the only man in my life!
Kitty: He wants to brush you off! He is fond of me, why don't you leave?
Hairdresser: I am sorry! Don't tell me of bearing my baby! I am sponsoring you some money! Take few hundred and leave now!
He slaps her across the face with a wad of cash. She lets the money fall then hits him. He knocks her to the ground.
Hairdresser: Damn you, how dare you frame me!
--------------------
Wow! The barbershop scene really plays like it's right out of "A Street Car Named Desire," don't you think?... well, even without the bad translation, you gotta know that this shit isn't Cantonese Tennessee Williams. The scene ends with Kitty revealing that she feels sorry for the pregnant woman and despises the hairdresser. She shows her feelings by, naturally, using a pair of scissors to stab the hairdresser repeatedly in the crotch, but there's plenty more fun and action to come. All this happens in the movie's opening minutes. The rest of the movie involves lesbianism, decapitations, more castrations and other exploitative fun. Paradoxically, this is a must see for both misogynist and feminist. It has something for everyone! -- Rating: $9.50
Dirty Dan -- copyright 2000 Hollywood Outsider