xXx (2002)
Directed by Rob Cohen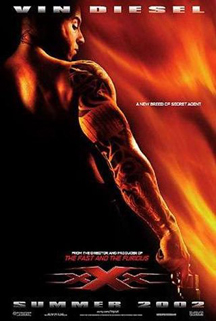 "Triple X" is triple wicked-retarded, be-otch! Well, there's the pull-quote for "Triple X." Like it? If you didn't then you know how I felt after seeing "xXx." To say the story is comic book is an insult to all those sophisticated and subtle "Batman,, "Aquaman" and "Superman" story lines. There are a couple of amazing, sick, and totally fucked up action sequences but the script seems to have been written by a 12 year-old. To be more precise, a 12 year-old boy who has dropped out of school to smoke crack and ride around on his deck while talking ironically about how screwed-up the world is. No disrespect meant toward all those little dudes out there who are expressing their individuality and freedom by embracing the lifestyle of youthful crack-heads but this vapid flick is filled wall-to-wall with a bunch of assholes who are just too fucking cool for their own skin (never mind the room).
Having said that, I just know that "xXx" is going to be a huge hit. It will probably be one of the biggest hits of the summer and will spawn a franchise. The movie's tagline is "A New Breed of Secret Agent." This is meant as a slap at the "Bond" films but this movie continues many of the tired cliches that makes "Bond" so worn out, including the one-liners that he says after each of the bad guys croak. Who needs it? This movie only wishes that it were as good (or as bad) as a "Bond" film.
The meglo-maniacal nemesis in "xXx" is some Czech anarchist (check please!) who dreams of a world without governments -- "a world of total freedom". Vin Diesel is an extreme sports fanatic (and counter-culture hero) who is roped into the secret service by a leading agent played by Samuel L. Jackson (and I use to like Samuel L. Jackson) to find out what this wild and crazy Czech is plotting. Yeah, whatever. Pouty Asia Argento is also around as the girlfriend-for-hire of this crazed Czech. My favorite moment of this flick is when one of the wild and crazy Czech-henchmen bellows in a disco, "Bring in the bitches"! These Czechs sure know how to swing correctly. So, this Czech bad guy has hired a bunch of Russian biological weapons experts to make a weapon of mass-destruction worthy of a truly horrible Hollywood movie. The rest of the plot you can just fill in yourself. It's all the stuff made fun of in "Austin Powers" movies.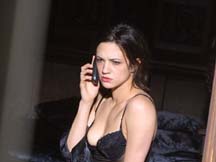 Other notable scenes involve dialogue so bad that it totally gives away the anxiety of the filmmakers over the plausibility of the action. A good example is when Vin escapes the bad guy's lair and makes it back to his hideout in Prague. When he enters his room, he is ambushed by a bad guy and is now staring at his imminent demise. Suddenly, the bad guy is killed by gunfire through the room's closed door. Keep in mind that the bad guy is standing a few feet from Mr. Diesel. Asia Argento then enters and "explains" how she was able to kill the bad guy and not hit Vin because, "I heard you guys talking, so I knew where each of you were standing." What she should have said, "Wow, you're totally fucking lucky I didn't shoot you too!"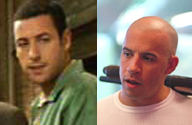 I've said this before ("The Fast and The Furious") but I just can't help it. Were Vin Diesel and Adam Sandler separated at birth? I mean, shave Adam Sandler's mug, put him on steroids and set him out in the sun for a while. TaDa! You've got yourself another Vin Diesel! I've also got some name issues here. Hey, I know it's smart business sense to change your way-ethnic name into something a little cooler for the commercial marketplace but "Vin Diesel"? Isn't that a porno-quality name (which might be appropriate for a flick called "Triple X")? You know what? "Tom Graney" is a little too Irish-catholic and blah for my tastes. How about something snazzier like "Alfonso Octane"? Hmm... people might shorten that to "Al Octane" then I would sound like a new type of gasoline, a town in Iraq, or a WWF wrestler. How about "Derek Octane"? Now, that's sufficiently porno sounding. From now on I'm signing all my reviews as "Derek Octane." Actually, not a bad idea. -- Rating: $1.55
Derek Octane -- copyright Hollywood Outsider 2002