Wag the Dog (1997)
Directed by Barry Levinson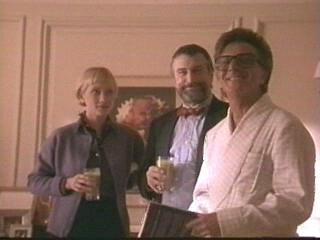 When I went to see "Wag the Dog" the guy in front of me asked for, "Two for 'Wag the Dog's Tail'." If you want to read about the amazing parallels between this flick and the recent events in the White House, skip this review. Ditto, if you want to consume useless bits of gossip about Ellen Degeneres' V-grinding pal's appearance as a White House staffer.
The best thing about "Wag the Dog's Tail" is Dustin Hoffman's portrayal of the schmuck movie producer. In his first scene, he is put off because an important incoming call (cell phone, natch) from the President has interrupted one of his petty, self-indulgent war stories, "Can he wait a minute?" Then, as everyone's attention turns to the Prez's call, Dusty wonders, "Is anybody listening to me?" Dusty has obviously endured many years dealing with these royal hard-ons and playing one of them seems to GIVE him one.
They say that "Wag the Nice Doggie's Tail" was shot with a "low budget" in a "short amount of time." I'm sure "they" are speaking relatively here, but it seems to have steered "them" towards subtlety instead of the usual serve-it-on-a-platter-and-shove-it-down-your-throat type story. This doggie's tale is told only from the POV of the small group of spin doctors as they toss out seeds of manufactured events, which the media promptly water and cause lovely flowers of untruth to bloom.
I shouldn't neglect De Niro, who checked in with a performance which can be described as lounging bull-enjoyable, casual and not at all a hard day at work for Bobby. Upon close examination, I saw fleas on this mongrel, I could have picked apart some of the methods of how the characters actually executed the "wagging," but I chose to sit back, view from a distance and open another bag of mint-flavored Milk-Bones. -- Rating: $6.98
Mike Santoro -- copyright 1997