Very Annie Mary (2001)
Directed by Sara Sugarman
Rachel Griffith is the ebullient Annie Mary, a mentally challenged young woman whose talent for getting into trouble is only surpassed by her zest for life. She yearns to have a place of her own but her domineering father, Jack Pugh (Johnathan Pryce), keeps her on a leash -- for her own protection, he says. Both have God given musical gifts but Jack doesn't let Annie use hers. There can only be one star in the family.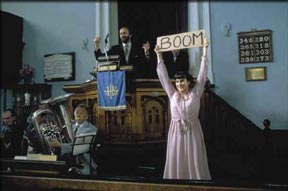 Jack dons a Pavarotti mask and fills the countryside with opera music and his mellifluous voice through the P A system on his delivery truck while delivering his fresh baked goods. He is a fixture at Sunday mass and all the church socials. Women coddle him, men admire him, and Annie Mary must put up with him. Her sainted deceased mother had high hopes for her. Annie Mary had won a singing contest as a teenager. She even gives voice lessons to those who will pay, like Hob and Nob (Ioan Gruffud & Matthew Rhys), the two shop keepers who idolize her. Now she is relegated to tending house and playing piano for her father. All that changes when Jack becomes ill. Annie may still have to look after him but it will be on her terms, not his. His illness paves the way for her emancipation.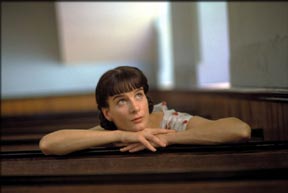 Rachel Griffith gives a heart warming performance that never strains for credibility. She imbues Annie with the heart of a child and a soul for the ages. When Annie paints her kitchen a solid color from top to bottom Rachel turns the mundane into a celebratory act of defiance. Her attempts to run her father's business are full of pitfalls and pratfalls. The art of baking takes a beating with sagging loaves of bread and lopsided cakes. Everyone is rooting for Annie even though she is bound to fail. But by keeping Annie Mary's actions true to her character, writer/director Sara Sugarman allows Annie to learn from her mistakes and blossom into a responsible person. No one looks down on her because of her mental handicap. They recognize her for who she is, at least until she is entrusted with a task she is ill prepared to handle. Meanwhile she worms her way into the good graces of riotous trio of contrasting body types and off key voices who hope to win money in a talent contest. Like everyone else in the village, they want to help send Annie's best friend, the sickly Joanna Page (Bethan Bevan) on a dream vacation. But Joanna wants only one thing -- to hear Annie sing before she dies.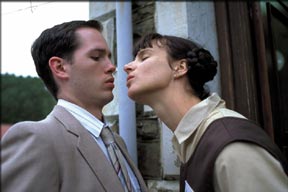 The ending of "Very Annie Mary" may be predictable but the road there is anything but, thanks to the colorful bits that add color and hue to Annie's life. Defeats are turned into victories that make Annie think she can take on the world. When Rachel Griffith and company are called upon to change a singing act at the last minute, Sugarman lets her players spoof the opera world with one of the most inspired bits of lunacy I've seen in a long time. The end result is an odd mixture of triumph and tragedy, laughter and tears, and exhilaration. Somehow it all works! -- Rating: $7.50
Three of the many faces of Rachel Griffiths:
"Muriel's Wedding" (1994) -- Toni Collette is the title character, an unattractive overweight young lady who decides to strike out on her own, who marries in name only to help a foreign athlete get the Australian version of a Green Card. Griffiths is the best friend who helps her come out of her shell and attack life. She spends the latter part of the film in a wheelchair that tests the bonds of their friendship. This was a breakthrough for both actresses.
"Hilary & Jackie" (1998) -- Emily Watson is the celebrated cellist Jacqueline Du Pre and Griffiths is the sister who opts for family life over a musical career. Their love for each, their jealousies, and their conflicting wants and needs are depicted in parallel time from two different points of view. Terrific picture with stellar performances.
"Blow" (2001) -- Directed by the late Ted Demme. Griffiths plays older than herself as Johnny Depp's mother in this surprisingly funny and poignant cautionary tale about the real life George Jung who is credited with creating the distribution network that fed the cocaine craze of the eighties.
Three of the many faces of Johnathan Pryce:
"The Ploughman's Lunch" (1983) -- Directed by Richard Eyre who was responsible for this past year's "Iris." Pryce received his first critical raves as a radio reporter trying to stay at the top of his game and being thwarted by social conventions during the war in the Falkland Islands. The title is a metaphor that equates the diet of the common people with one's station in life.
"Something Wicked This Way Comes" (1983) -- Pryce is Mr. Dark who's carnival has come to collect souls in a small rural town in this adaptation of a novella by science fiction writer Ray Bradbury.
"Evita" (1996) -- Pryce sings his way through a revolution as the Argentine dictator Juna Peron to Madonna's Evita in this adaptation of the hit musical by director Alan Parker. Overblown but the stars are great.
Greg Murray -- copyright 2002