Titanic (1997)
Directed by James Cameron
Master of disaster, James Cameron, scores with his "Romeo and Juliet" on a boat. The doomed lovers are done in by an iceberg and, in one of the lighter moments, may have unwittingly contributed to the boat's rendezvous with destiny. According to Cameron, the two sailors manning the crow's nest are more interested in suffragette Kate Winslet and her bohemian-beau Leonardo DiCaprio's romp on the poop deck than the enormous chunk of ice lying straight in the ship's path. When they stop their rubber necking and look ahead -- Doh! -- it's too late.
The beginning of the movie concerns Bill Paxton's search of Titanic's wreckage for a safe that contains a priceless diamond. When he gets the safe up to his salvage ship, Paxton pulls a Geraldo. The safe contains mud, worthless disintegrating money, and a pencil sketch of a nude woman wearing the sought after hunk of ice. It turns out that the woman in the drawing is still alive and Paxton has the old lady brought to the sight of the disaster to relate the events leading up to the sinking and loss of the diamond. For the next hour we watch the old broad's Harlequin Romance-esque story unfold.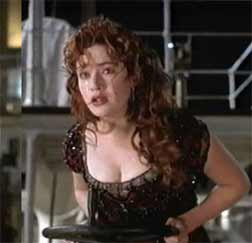 A porcelain-skin Winslet, decked out in gowns, shakes her auburn tresses in fury at her loveless engagement to an effete zillionaire, Billy Zane. It turns out that her robber baron family is out of loot and her marriage to Zane is gonna be the clan's salvation. Rather than submit, Winslet decides it's better to toss herself off the back of the boat. Art-boy DiCaprio intervenes and stops her from becoming chowder. He then introduces her to the joys of nude modeling and step dancing with the potato heads in steerage as they thumb their noses at all the high-society stiffs. Finally, Winslet bags her boy (an hour and half into the movie) signaling the arrival of the iceberg. What follows is a different movie altogether. It's two hours of gallow's humor as everyone (especially the boat people in steerage) come to the realization of just how truly fucked they are. The most brilliant move on Cameron's part is showing (at the beginning of the film) a computerized dissection on how and why the ship ends up sticking in the air before snapping in half and rocketing to the ocean floor. As cliched as the love story is, it works in context of the bigger picture of what really happened that fateful trip. You have to have an iceberg in your chest not to be moved by the scope of the disaster as Winslet lies afloat on a piece of wreckage, her hair sparkling with ice, softly singing a ditty to the indifferent stars as 1,500 frozen corpses bob in the empty, dark sea all around her (an "homage" to the nocturnal boat ride by the children in "Night of the Hunter").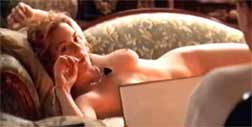 The pacing is methodical but not slow. There are numerous scenes that could've been omitted but I didn't regret that they were there. Ditto on the sappy dialogue but it fits well with the sappy characters in a basically sappy time (1912) still two years away from the sobering reality and insanity of World War I (AKA The Great War; The War to End All Wars; The War to Save Democracy; The War Against the Huns). Winslet and DiCaprio are both fine actors and have "chemistry," plus every penny of the 200 million dollar budget is on screen for you to ogle. One of the reasons that the story of the Titanic continues to resonate is that the cream of society was on board -- Astor, Carnegie, Guggenheim. Admit it, secretly (or not), wouldn't you feel that maybe there is a god if the Concord went down tomorrow with Trump, Gates and Helmsley onboard? What could be more cathartic than that? Okay, I'm a bitter man. -- Rating: $9.50 (this one isn't going to be too good on a TV screen)
Tom Graney -- copyright Hollywood Outsider 1997