Swimming Pool (2003)
Directed by Francois Ozon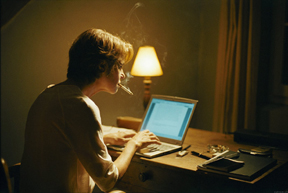 When was the first time you saw Charlotte Rampling? If you were old enough in the sixties, it may have been in "Georgy Girl" (1966) as Lynn Redgrave's promiscuous roommate. The next generation would have claimed her as their own when she appeared in the controversial "The Night Porter" (1974) as a sexually abused concentration camp victim who sidles up to her abuser when she meets him years after the war. Still later she was Paul Newman's distraught lover in "The Verdict" (1980)—three distinct roles that marked each decade of her professional life. She's always been with us, even in entertaining schlock like "Orca: The Killer Whale" but it's her recent association with French director Francois Ozon that has given her the most buzz in years. In "Under the Sand", Charlotte plays a woman who refuses to believe her husband is gone after he disappears while on holiday at a remote beach. Her descent into madness is revealed in measured imperceptible doses. Ozon uses the same technique in "Swimming Pool", using small seemingly unimportant details that become more significant while Caharlotte Rampling's Sarah Morton is on holiday at her publisher's French country house trying to break through her writer's block.
Sarah Morton is a successful mystery writer who is bored with the detective series that has been the bread and butter for her publisher, John Bosload (Charles Dance). She takes his suggestion and goes off to his place in France to get her creative juices going. Her quiet and uneventful stay is upset when John's prodigal daughter, Julie, shows up. She is a free spirit reveling in her sensuality, parading naked around the swimming pool, inviting several male companions to share her bed, and testing Sarah's patience and fortitude. Julie stands in direct contrast to Sarah's seemingly prudish bearing; she's also a source of great distraction. So Sarah, against her better judgment, decides to amuse Julie and herself by playing along with her mind games. In the process, she gets swept up in Julie's personal problems stemming from a family tragedy. But things begin to unravel when one of Julie's suitors does not want to play along. Under Francois Ozon's careful construction of time and place, "Swimming Pool" goes through a metamorphosis changing from a summer idyll for the rich and famous into a psychological brain twister that tests the audience's perceptive skills. "Swimming Pool" is a psychological thriller, murder mystery and something else, and to say what that something else is, is to give away underlying premise of the film.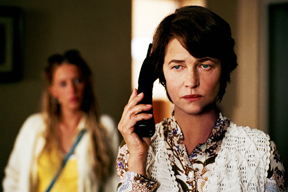 Much of the hoopla surrounding "Swimming Pool" has been about the pure carnality of Ludivine Sagnier's performance as Julie. Let me say, she is naked in so much of "Swimming Pool", it's like having steak every night for dinner. Soon the male contingency may tire of feasting their eyes but you can still savor the essence of her character, that of a troubled teen. On the other hand, any males fantasizing about bedding a seductive older woman will not be displeased with Charlotte Rampling's bravado. She has aged gracefully, keeping the slim figure that helped launch her career as a model in the days of Twiggy, Carnaby Street, and The Beatles and she's perfectly willing to show it off for Art. Suckering an audience to play into those fantasies has as much to do with the success of Francois Ozon's latest collaboration with his two stars (Sagnier had an pivotal part in Ozon's "8 Women") as the leisurely pace that lures us, unsuspecting, into the inner workings of the women's minds. ($8.50 Rating)
Two early films with Charlotte Rampling
"The Knack... and How to Get It" (1965) -- This was director Richard Lester's follow up to the Beatles' "Hard Days Night" about a guy who wants to learn his friend's secret about getting women. You have to look fast to sight Rampling but this was a great film to have on her resume.
"The Damned" (1969) -- Luchino Visconti's look at the disintegration of a German industrial family while the Nazi Party rises to power. Rampling is a devoted wife of a family member who stands in the way of another's takeover. Dirk Bogarde is one of the major stars. He was "The Night Porter" to Rampling's victim in the 1974 film.
"Zardoz" (1974) -- John Boorman's sci-fi fantasy about a group of immortals who rule over a world of warring primitives who supply their every need. Rampling is one of the intellectual mortals who becomes enamored with an intelligent primitive who has managed to stow away into their world and upset their sense of security with his barbaric ideas about his life and their death. Sean Connery has the lead role.
Greg Murray -- copyright 2003