Run Lola Run (1998)
Directed by Tom Tykwer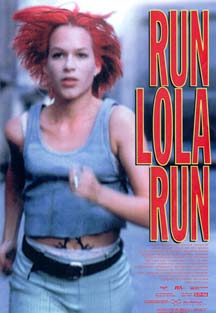 Choosing a movie to see is like searching through the pages of a race form and trying to pick a horse that will be a sure thing. With names like Mr. Corn, Flyaway Baby, Buster Blue and Crayon Song, who can tell which equine will break away from the gate in lightening speed and cross the finish line in a sweeping victorious stride? The film section of a newspaper is no more telling or inviting. "Run Lola Run," with its simplicity and fervor, reads like the name of such an athlete. But unlike the masses of mediocre thoroughbreds, this one is a breakaway champion. "Run Lola Run," a German-made film of a different caliber contains more diverse excitement than one can expect from most of today's cinematic offerings. It plays like a modern day pinball machine: As the ball is launched, Lola, played by Franka Potente, skitters and bounces around the machine with unpredictable precision. Coupled with a sharp techno soundtrack, brief bouts of animation and rapid-fire snapshots, it's not the rules of the game -- or in this case the movie's storyline -- that's as important as how the game plays. And the best part is if you don't like the ending, a quick jab to the restart button launches another go round. This happens three times.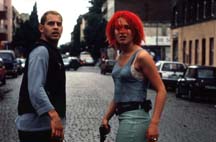 At the start of the film, Lola receives a call from her gangster-in-training boyfriend, Manni (played by Moritz Bleibtreu). Manni and Lola screwed up a sure-thing kind of drug deal; Manni got nervous and consequentially left the loot on a moving train. Now Manni is up the creek, so to speak. If he doesn't come up with 100,000 marks -- like now -- he threatens that he's going to hold up a supermarket. Lola implores Manni to hold his horses for 20 minutes while she saves the day. With her platinum red, Raggedy Ann hair, blue pants and loose-fitting tank top, what's a girl to do? The typical Hollywood concoction would have soured right here, but this is where filmmaker Tom Tykwer's 80-minute, three-act, low-budget action thriller takes off.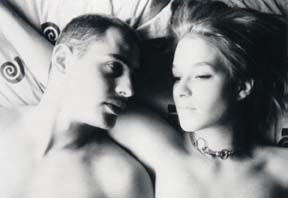 Concerned more with box-office sales, soundtrack sales, popcorn sales, and faces like Tom Cruise and Julia Roberts, what most American films lack is imagination -- the ones that make it onto a theater marquee, at least. Tykwer seems to be fueled with only this instinct. We learn so little about Lola and Manni because the premise of the film is not character development, but rather story development. Whoever said that a human must be the protagonist? In "Run Lola Run," the camera plays the ultimate hero. Its quick-pace romp through this mini adventure, one that takes only 20 minutes from phone call to a good ending, a better ending, and a happy ending, turns out not to be just a camera after all, but an extension of ourselves, as we would be standing, captivated by an addictive game of pinball waiting, hoping, anticipating the balls every jerky movement.
"Run Lola Run" amounts to being a movie that's not about the characters that make the story. For only fleeting moments, here and there, do we even get treated to a slice of Manni and Lola's life. Their muted stories are occasionally interspersed into the action and serve as a moment's reprieve from the constant, heart-pounding swiftness of Lola's trek to save the day. A few moments of pillow talk, scenes that may or may not explain Lola's red hair and messy room, and a montage of future-telling photos of people that in every other film are called extras -- also known as scenery -- could easily have been part of a bigger story with more dialogue and characters. But why? Filled to capacity with a diversity of media expression, from animation to photography, broadcasted onto a canvas blaring non-stop techno riffs, "Run Lola Run" can be passed off as a foreign-language, music video. But if for just 80 minutes you allow yourself to enjoy the game, with all its idiosyncrasies, it's a film that you won't soon forget. -- Rating: $9.50
Riki Markowitz -- copyright 1998