Red Dragon (2002)
Directed by Brett Ratner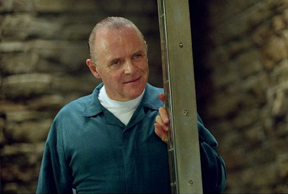 If you like your Hannibal Lector lite, you won't be disappointed in "Red Dragon," the prequel to "Silence of the Lambs." Anthony Hopkins delivers the goods using all the mannerisms that have made his name synonymous with the mad doctor. Lector is introduced in a tongue in cheek dinner scene serving his guests a gourmet dish whose secret ingredients are known only to him and the audience. Later, FBI agent Will Graham arrives to consult Lector on his latest investigation into the mind of a serial killer who's still at large. We know the killer is Lector. We know he's playing with Graham. And we know they will come to blows with Lector's murderous ego pitted against Will Graham's well honed survival instincts. Their brief scenes have all the suspense one might expect at the end of a movie, not the beginning, but it's the hook that lures you into a story that's been done once before as "Manhunter" (1986), writer/director Michael Mann's version of the Thomas Harris' novel.
So why do it again?
There are several legitimate reasons. The first and most obvious is money. The second is Anthony Hopkins. The third is artistic. Hopkins' name on the marquee guarantees the built in audience that turned the lackluster "Hannibal" into a hit. His mere presence eclipses any mention of Brian Cox as Hannibal Lector in "Manhunter." A cast of established actors and a different ending further enhance its appeal. The retooling of "Red Dragon" also fleshes out the relationship between Lector and Graham. The real difference between the two movies has more to do with style than plot. "Manhunter" concentrates on the way Will Graham's mind works. It is more of a character study with the look and feel of Michael Mann's hit TV series, Miami Vice. "Red Dragon" gives more time to the motives and purpose of the serial killer known as the Tooth Fairy that is rooted in child abuse. This decision has its pluses and minuses. On the one hand, Ralph Fiennes gives a commanding performance as the deranged Francis Dolarhyde, but it is at odds with the way the filmmakers choose to reveal his inner demons. Whereas Tom Noonan is just downright creepy and therefore more mysterious as the Tooth Fairy in "Manhunter" without the exposition.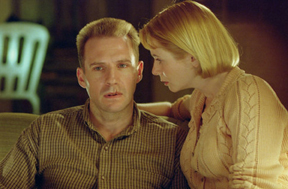 Plotwise, "Red Dragon" follows the same story line. Graham comes out of his self-imposed retirement to track a new serial killer. He consults Hannibal Lector. The killer believes he is going through a metamorphosis with each murder turning himself into a red dragon. He is befriended by Reba McLane (Emily Watson), the blind girl who works with him at his day job when he's not out killing people. Philip Seymour Hoffman makes Freddy Lounds, the sleazy journalist out to sensationalize Will Graham's exploits, more prissy than the previous Lounder. The bottom line is "Red Dragon is a solid entertainment. It's a retro-thriller that relies on good storytelling, expert direction, and superb performances. If anything, "Manhunter" suffered from a cast that was relatively unknown at the time of its release. Each movie can stand equally on its own. -- Rating: $8.00
Below is the cast breakdown for Red Dragon and Manhunter. See both and compare. It's well worth the effort.
CHARACTER RED DRAGON MANHUNTER
Hannibal Lector: Anthony Hopkins, Brian Cox
Will Graham-FBI: Edward Norton, William Petersen
Francis Dolarhide: Ralph Fiennes, Tom Noonan
Jack Crawford-FBI: Harvey Keitel, Dennis Farina
Reba McLane: Emily Watson, Joan Allen
Molly Graham: Mary Louise Parker, Kim Griest
Freddy Lounds: Philip Seymour Hoffman, Stephen Lang
Another movie based on a Thomas Harris novel
Black Sunday (1977) - John Frankenheimer's thrilling spy movie with Bruce Dern as scorned Viet Nam vet used by terrorists in a plot to blow up a blimp over a Super Bowl. It's one of a kind chase and shoot out in the streets of Paris look foreshadow today's headlines. Robert Shaw is the Israeli agent out to stop the bad guys.
Greg Murray -- copyright 2002