Ocean's Eleven (2001)
Directed by Steven Soderbergh
The father of the modern "indie" scene, Steven Soderbergh ("Sex, Lies, & Videotape"), has finally done his first big, vacuous Hollywood blockbuster ("Erin Brockovich" had the pretense of a social message, which, admittedly, might make it worse). Yahoo! Welcome to the shit-house, Mr. Soderbergh, pick any golden stall you want. "Ocean's Eleven" is a chunk of excrement large enough to drop Soderbergh into the same elite toilet bowl as rubberized Joel Schumacher, lethal Richard Donner, and speedster Jan De Bont (okay, okay… I'll lay off the potty references).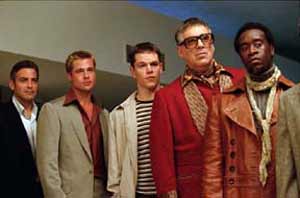 George Clooney teams with Soderbergh hoping to recreate some of the magic they had when making "Out of Sight". However, Clooney as "Danny Ocean" is given nothing to build his character on so he instinctively falls back on the patented smug persona that he used in crap like "The Peacemaker" and "Batman and Robin". Brad Pitt is also around playing Clooney's second banana as they pull together a pseudo Rat Pack to knock over the bank vault of three of Vegas' biggest casinos. This isn't just about money and greed (yeah, right). It's personal. It turns out that the victim of the heist, Andy Garcia, is the same man that is now shacking up with the ex-Mrs. Ocean (Julia Roberts). Roberts is totally forgettable as the piece of meat in the tug-of-war between bad-guy Garcia and Clooney. While I'm at it, does Julia Roberts shave her upper lip? For some reason, there seemed to be this dark shadow (5 O'clock?) on her upper lip that I've been obsessing over ever since seeing "Ocean's". Maybe, the gaffer or the makeup person had a grudge? Email me if you have the dirt.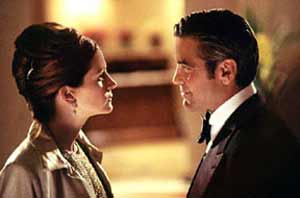 Okay, forget about Julia's lip, the real problem is, do we really need a re-do of "Ocean's Eleven"? The Rat Pack was a real group of friends who lived a certain lifestyle at a time and a place that doesn't exist anymore... jack! I'm not a Rat Pack fan but I do understand that they were a group that shared an outlook that translated into chemistry. The original "Ocean's Eleven" played off real personalities like Sinatra, Martin, Davis, and Dickinson. The film seemed like an excuse for these hep cats and hip chicks to spend more time together boozing and banging. Whether or not this made for a good movie depends on how much you "dug" those crazy "cats" and dizzy "dames", baby. In other words, I have a hard time picturing Clooney, Roberts and Pitt hitting the Vegas clubs and bars together after the cameras stopped rolling. Actually, I have a hard time picturing these three having anything to say to one another on the set, forget about after the filming is done.
The tag-line for this glossy but empty experience is, "Are You In Or Out?" Well, I'm out, choo-choo. Congrats to Soderbergh for finally making it to the big time but I think he's still got another "King of the Hill" or "Kafka" in him. -- Rating: $0.11
Tom Graney -- 2001 Hollywood Outsider