My First Mister (2001)
Directed by Christine Lahti
It's difficult not to compare "My First Mister" to another film that came out in 2001, and also featured a May/September relationship, "Ghost World". Unfortunately, "My First Mister" suffers by the comparison. It can also be compared to "Harold and Maude" (1971), but that would also be unfair because "Harold and Maude" is a classic -- not to mention that "Harold and Maude" held nothing back and thoroughly explored all the icky issues that are merely alluded to in "My First Mister". All these films are about young adults who are alienated from both their parents and their peers. They are all lost and find a connection with older partners who are facing their own life-altering issues. Unlike "Ghost World" and "Harold and Maude", "My First Mister" never quite takes off. It's the directorial debut for Christine Lahti, and it's well intentioned, but weak and gutless at the same time -- unlike "Ghost World" (okay, okay... I'll stop referencing "Ghost World").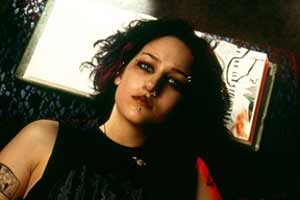 The story revolves around a young outsider (look out!), a hybrid goth-punk known as "J" played by Leelee Sobieski. She likes to listen to her music, stick pins in her doll collection, write sad missives (which are promptly folded into paper airplanes and delivered to the world through the nearest window), and stick pins in herself. Her defining characteristics are a mop of dyed black hair with purple streaks and a face full of piercings. In her introduction, she is using her own blood to accentuate her latest morose prose. The source of her alienation is a little hard to define. Her divorced mom (Carol Kane) is a house-frau freak who likes to sing schmaltzy pop songs and does everything in her power to avoid confronting the growing rift between her and her daughter. "J's" vacant step-father's (Michael McKean) defining personality trait is that of his bad hairpiece. What doesn't jive in this decidedly odd world is "J's" disaffection from people her own age who are similarly alienated. From my memory, I would say finding other angry youths to share your angst with is as tough as shooting fish in a barrel. There's something missing in the mix of her life to explain her isolation. Also, the stakes seem to be very small or even non-existent. All the characters have arcs and change but the consequences of failure seem obscure.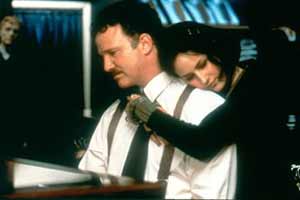 While searching for work, "J" crosses paths with a mild-mannered, fifty-ish shopkeeper (Albert Brooks) who runs a little upscale boutique in a suburban mall. What draws this mismatched couple together is that both are sensitive, decent people. Their sensitivity alerts each other to this fact and so a relationship develops and Brooks hires her to organize the stockroom. Brooks' character, "R", is much too decent to get into a sexual relationship with an 18 year-old and "J's" character is much too decent to do anything too drastic (aside from the tiny cuts on her arm) to assuage her loneliness and pain. What we are left with is a nice little story of a couple of decent people. There isn't enough in this scenario to sustain the film, which must explain why three quarters of the way through there's a twist that isn't so much a twist as the beginnings of a different movie. This kind of development works very well in literature but not at all in movies, especially one that isn't exploring territory outside of the usual small, character-driven movie type.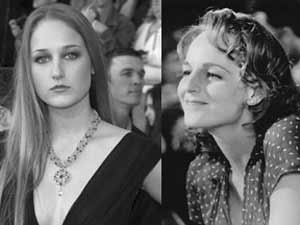 On the positive side, the cast is great and Lahti's direction is good with interesting explorations of "J's" inner life and fantasies as they bleed out, literally, into reality. There are lots of nice touches and moments between the characters and all the characters are likable. Brooks is great and Sobieski is also very good. For some reason, I kept having Helen Hunt flashbacks as I watched Sobieski as the in earnest "J". Hunt and Sobieski would be an interesting combination in a future movie -- just thinking out loud. The story is well written by Jill Franklyn with some crisp dialogue, if you can only ignore the fatally flawed third act. -- Rating: $4.04
Tom Graney -- Copyright 2003 Hollywood Outsider