The Mummy (1999)
Directed by Stephen Sommers
Not so much an "Indiana Jones" clone (like "Allan Quartermain and the Lost City of Gold") as a movie taking place in that same world, Brendan Fraser plays a mercenary/adventurer who pairs up with fetching Egyptologist Rachel Weisz to stir up heaps of trouble in Cairo circa 1920 something. The story is by the numbers but solid. It begins 4000 years ago with an ancient Egyptian high priest who has been schtupping the Pharaoh's "favorite of favorites." When Pharaoh catches the couple at it, they know their seconds are numbered and they murder the monarch. Rather than surrender to the royal guard, the concubine kills herself. Not so lucky, the high priest is captured then damned with eternal life before being mummified and entombed with thousands of flesh-eating scarab beetles (cool).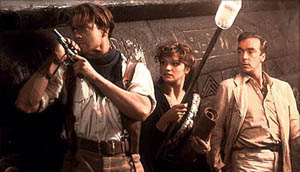 Fast forward to the "present," Fraser is awaiting execution in an Egyptian jail and Weisz is an English Egyptologist who saves his neck because he knows the whereabouts of an ancient, royal burial ground. Together they head into the desert to uncover the old necromancer and unknowingly unleash his evil onto the world. The freshly sprung mummy has the power of plagues and the desire to resurrect his long dead love so that they can rule the world together.
The plagues vary in their ability to scare or thrill the audience. One of the best moments of primal creepy-ness is when the diseased and evil mummy turns and screams in a crowded bazaar as he dissolves into a cloud of stinging flies. Not as effective is the mummy's power to make the citizen's of Cairo into his zombie army. The smaller powers seem to be the more effective, such as when the mummy summons the desert sand to attack the adventurers. The sandstorm takes on his shape as it attempts to devour the would-be mummy killers.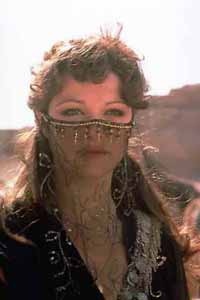 If you are looking for some fantasy, escapism and fun on a summer afternoon then "The Mummy" works very well. If you are looking for anything recognizable in the real world then "The Mummy" is going to irritate the hell out of you. The world depicted is right out of the old Hollywood films such as "Abbot and Costello Meet the Mummy." The British are portrayed as the cultured but decadent colonizers, the Egyptians as either mystical guardians of tradition or buffoons. The Americans are uncouth and childish plunders of an ancient land. Like any stereotypes, they contain a grain of truth but so what? There are many stories to be told with many different points-of-view. Do we have to be given the same thing again and again (not so much a comment on "The Mummy" as on Hollywood in general)?
One of these flagrant stereotypes is the character Beni, a wacky Egyptian Peter Lore type. He has no backbone and goes where the wind blows. When the mummy has him cornered in the crypt, Beni tries to fend off the monster by holding up various religious symbols (a little mummy/vampire confusion on his part). He starts with Christian crosses of various sizes and when that doesn't work he moves on to other religious iconography: Muslim crescent, a fat Buddha, then a Star of David. The mummy breaks off his attack when he sees the Star of David, "Ah, one of the slave people. Gold will make him an excellent servant," or something to that effect -- incredibly racist but funny. Speaking of greed and ethnicity, luckily the Great Pyramids of Giza were too big for the English to cart back to England. Well, it's only a movie and if you're looking for a lesson in history or culture from "The Mummy" then you're a fool. Turn off your brain and enjoy the ride. -- Rating: $8.25
Tom Graney -- Copyright 1999 Hollywood Outsider