Monsoon Wedding (2001)
Directed by Mira Nair
There are certain hallmarks of weddings, whether real or in fiction -- traditional and uncomfortable clothes, Hokey old songs, money, dancing and family dramas. It really doesn't matter if it's the wedding scene from "The Godfather", "The Deer Hunter", "My Big Fat Greek Wedding", or Mira Nair's "Monsoon Wedding". The most distinctive cultural difference of "Monsoon Wedding" is that it's an arranged match up, so the wedding couple are, essentially, strangers. If you're expecting this to be the direct dramatic issue of the movie, forget it. Considering how many Western marriages end up on the rocks, and with bitter divorce court proceedings, maybe arranged marriages aren't a bad idea. The point is that neither marriage partner is against the traditional system per se. However, they don't come into the ceremony as blank slates. They both have had their own lives and have their own baggage, as a result. The bride-to-be has been raised in India ("Monsoon's" locale) and the husband-to-be lives in the United States.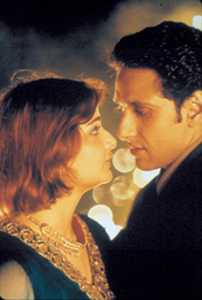 The movie starts where all stories about weddings should begin; MONEY -- with the bride's father arguing with the event planner. Right away we know that the family is under considerable economic strain, and the father is trying his best to keep everything from falling apart. Money can be the underlying cause of many unhappy situations. The father's comic irritability would be recognizable to anyone who has put an event as complex and expensive as a wedding together, but director Mira Nair quickly moves on to the women of the Verma family. One of the joys of this film is its refusal to settle on one character for too long. The main character is the wedding, which both brings the family together and threatens to tear it apart. Like Nair's previous films ("Kama Sutra", "Mississippi Masala", "Salaam Bombay!") she shows herself to be an excellent storyteller who has a gift of deftly juggling many subplots while keeping an eye on the overall drama. Her approach to comedy can best be summed up by one of the characters in "Monsoon", the event planer who moans, "What a silly little asshole I am" after an awkward attempt to swoon a woman who is working as a servant for the wedding. Many of the characters' problems are hurtles that need to be overcome in order to move their lives forward but there is one problem that is a real bomb that threatens to destroy the unity of the extended family.
The heart and soul of "Monsoon Wedding" are the women of the Verma family. The mother is an eternal optimist that definitely sees a glass that is half filled in regards to all the problems the Verma's are facing. She tries to smooth over her husband's anxieties, especially when it comes to their pubescent son. Their son likes to cook, dance and wear makeup. This is making dad uncomfortable. The father's solution is to threaten to send sonny boy to a boarding school where they'll teach him "to be a man". Meanwhile, mom thinks her son is an excellent companion and she is less anxious about his future proclivities. She's confident that, with time, it'll all work out. Also living with the Verma's is a niece and her younger sister who moved in after their father's death. The older niece is watchful and reserved. She's the confidant of her cousin who is getting married. She turns out to be such a great confidant because she really knows how to carry a secret. There's another young woman in the house, who is going to do a traditional dance at the wedding. What her exact relationship to the Verma's went over my head but what didn't was her more than passing interest in marriage. Her dance is an annoucement that she is ready for her own marriage.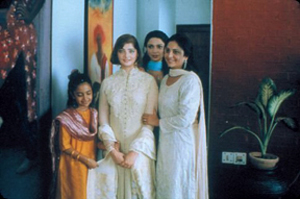 Mira Nair isn't repetitive. Her stories are brisk and alive. More likely than not, you'll find yourself thinking during "Monsoon Wedding" about your own family and your own life, just as a good movie is supposed to make you think and feel. It's a movie that, as you watch, you know you'll see it again and again in order to drink it in. Though "Monsoon Wedding" is distinctively Indian much of its themes and drama are universal. Like Ang Lee, Mira Nair has an excellent eye for relationships and is mostly concerned with the emotional life of her characters. "Monsoon Wedding" is a film that immerses you in a world and rewards you with a story about what is really important about life. When the characters ache you will ache, and when they are happy so will you. Isn't that the reason that movies are made? -- Rating: $9.50
Tom Graney -- Copyright 2002 Hollywood Outsider