Meet Joe Black (1999)
Directed by Martin Brest
This movie is rightfully notorious as the film that filled up theaters with geeks who paid $9.50 to see the trailer for "Star Wars: The Phantom Menace," only to have most flee before even the first frame of this stinker stunk up the screen. They made a mistake. They should have stuck it out for an ultra-cool death scene as pretty-boy Brad Pitt is smacked by not one but two speeding cars. This graphic and realistic piece of CGI is completely out of tune with the rest of the movie and thank god (about 25 minutes in)! If you ever wanted to see every bone in Brad Pitt's body shattered by a speeding taxi, then this is your movie! Once that's done, get the remote (his grisly death holds up well in instant replay), rewind the tape and then get it the hell out of your house. Bring it right back to the video store to avoid the risk of paying a late charge. You'll be kicking yourself for the rest of your life if that happened.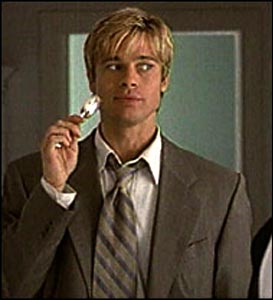 "Meet Joe Black" is one monotone, gabby scene after another as Death hijacks Pitt's broken body and takes it to billonaire Sir Anthony Hopkins' mansion for Hopkins' imminent demise. They strike a bargain. Hopkins can deal with some unfinished details of his life before Death takes him away; the survival of his company, the impending loveless marriage of his favorite duaghter (Claire Forlani) to a corporate asshole, and the mental breakdown of his eldest daughter who can't content herself with the left over scraps of her father's love. All this can be done if Death tags along for the entertainment value. With hardly enough story to fill a thimble, it's still another solid two-and-half grueling hours to work through this shit.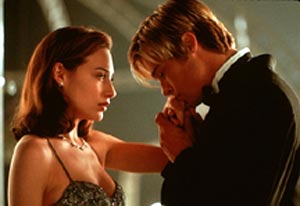 Interestingly enough, Death, who has visited humanity in its every endeavor for time immemorial, is portrayed as a simpleton! Picture the hero from "Being There" (Chance Gardener) shoehorned into a flattened out version of "Heaven Can Wait." What was Death thinking about while he was reaping billions of souls from this world? Apparently, nothing, if you are to believe the performance of Pitt in this movie. Watch Death as he discovers the joys of peanut butter and later starts talking with an embarrassing Jamaican accent, although it drifts into something that sounds more Irish, when he encounters a voodoo priestess dying in a city hospital. "Hey mon! Whatcha doin' here, mon!..."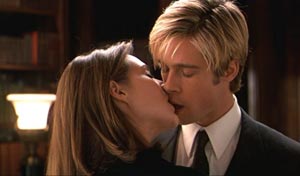 There's trouble in Hades as Death discovers that there is something about petite Forlani that makes his pants tight. Evidently, not every bone in Pitt's body was shattered in the accident. Yet, the movie barely acknowledges its necrophilic elements as Death gets busy with Forlani, much to the annoyance of her dad (Doah!). I guess it's okay that Death (notice the capital "D") is screwing Forlani as long as Death looks like Brad Pitt. The plot point is out of sync with the story. Death falling in love with a mortal and trying to take her to his realm seems like the beginning of an interesting story, not the end. Has anyone heard the story of "Persephone"? Maybe the geeks did know what they were doing when they skipped this flatliner. -- Rating: $2.01 (a dollar for each car that hit Pitt and a penny for the rest of the film)
Tom Graney -- copyright 1999 Hollywood Outsider