The Man in the Iron Mask (1998)
Directed by Randall Wallace
If you are a fan of Richard Lester's "Three & Four Musketeers" then you probably won't enjoy this reverential and tepid retelling of Dumas' yarn of the gang's latter years. Lester's films handled Dumas' corn-ball melodrama not only with tongue-firmly-planted-in-cheek but also with acidic social satire. In one scene, Raquel Welch is strangled with rosary beads by Faye Dunaway who is decked out in full nun-regalia. Can you imagine the same imagery in a mainstream Hollywood film today?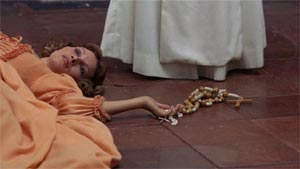 Although "The Man in the Iron Mask" was light on entertainment, I was lucky enough to be supplied with plenty of entertainment from the audience. Not far from me was sitting a psychopath who was pulling a De Niro. There were quite a few sadistic moments in the film (not the least of which is locking someone's head in an iron helmet). With every act of cruelty this guy would erupt in hysterical laughter. He was really making my skin crawl. There are some pretty scary people walking around out there or sitting next to you in a dark movie house.
Then there was another guy who was talking through the whole movie which annoyed one my neighbors resulting in a shouting match, "Will you shut up!" "No man, YOU shud-up!" Things quieted down and with nothing else of interest to focus on, my mind wandered until I was eavesdropping on two women that were sitting directly behind me. Their running analysis of Leonard DiCaprio's every move offered a wonderful insight to the feminine psyche.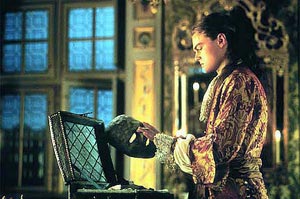 When a young, hot, blonde chick catches Leo's wandering eye, one of these ladies whispered to the other, "She's not that pretty." I mulled this observation over. To my eye, the actress was definitely "pretty" but was she "that pretty"? Hmm... I don't know. I think my neighbor was conceding that the actress did possess beauty to a certain degree, just not the amount suitable for her dream-man Leonard DiCaprio. Her friend chimed in with, "He doesn't really like her." Were we watching the same movie? When she said this, Leo was busy arranging for the blonde's fiance to be sent to the front of some far away war so Leo could bang her without further interference.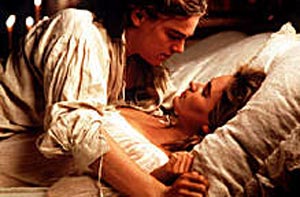 Maybe, her observation was a swipe at Leo's acting ability. Maybe, she was saying that she didn't buy Leo-the-actor's portrayal of a man sexually infatuated with a woman. Or maybe, it was a very shrewd observation that if Leo were "that in love" with this woman then he wouldn't be busy wrecking her life by killing her fiance and then dogging her into the sack. But really I think the observation was a reassurance to her friend that they both still had a good shot at getting Leo in the sack. Probably not, they aren't that pretty.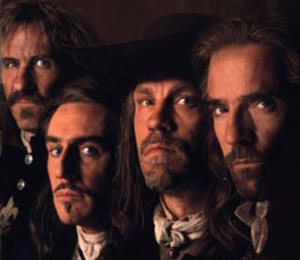 "God, look at that dress!" The blonde's dress wasn't the most modest little number. Her friend quickly hissed, "Slut." I could keep going with their insights but you get the gist. All the performances and performers were fine. Like usual, it came down to story, story, and more story. Poor direction didn't help matters. If you enjoy a movie that's all setup, little payoff, with clunky dialogue delivered by stately actors during melodramatic scenarios and poorly choreographed fight scenes then this flick is a must see! -- Rating: $0.99
Tom Graney -- copyright 1998 Hollywood Outsider