Two Lane Blacktop (1971)
Directed by Monte Hellman
In 1971 a small film came out that epitomized the "hippie road" movies of a generation. Monte Hellman's "Two-Lane Blacktop" is a magical discovery. Sam Peckinpah called it, "a goddamn masterpiece". Esquire magazine claimed it, "The movie of the year!" Robert Redford ordered a new print in 1991 for its screening at his Sundance Film Festival. With all these accolades and a petition of thousands of fans, the movie has still not come to home video*. The film was re-released this year in Portugal with a whole new press campaign and maybe, finally, Universal Pictures will schedule this incredible cross-country picture for a transfer. You can catch it on cable's SpeedVision channel every now and then.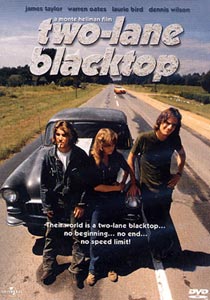 You just gotta love a flick that has no character names. James Taylor (in his first acting role) plays "The Driver". I would be surprised if he has more than a dozen lines of dialogue through the entire film. Dennis Wilson of Beach Boys fame is "The Mechanic", a man with transmission fluid for blood. You will never forget the Academy Award deserving performance of Warren Oates as "GTO", a man with no morals and creates a new personality to greet each hitchhiker he tries to pick up. Laurie Bird ("Annie Hall") is "The Girl", who manages to rev up more than just a few engines.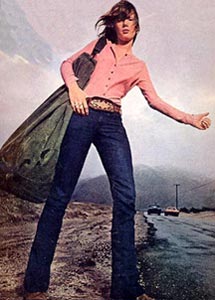 Two car nuts (Taylor and Wilson) travel across the southwestern U.S. in a primer-grey '55 Chevy looking for a race with anyone who may come along. They say nothing to one another unless it has to do with the performance of "The Car". After a few run-ins with "GTO" and his shiny roadster, the trio are motivated into a bet at a gas station. A race ensues to Washington D.C. for ownership of the loser's car.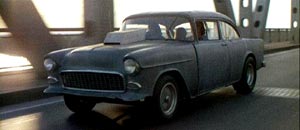 The real story is the marathon across the country. A race that nobody seems to want to win. "At times they stop to help each other along the road, as if the road would be unbearably lonely if 'that other car' weren't sometimes in view", Roger Ebert hypothesizes. The plot is incidental to the subtext of a generation seeking freedom in a seemingly ever-shrinking world of bosses. The lives of these "contestants" are the true focus of the film as they struggle with themselves, each other, and the road's metaphorical obstacles. Is it a road movie or an existential journey? The road itself is a character.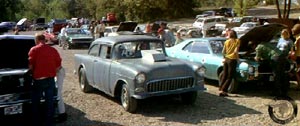 Don't miss Harry Dean Stanton as the "Oklahoma Hitchhiker", and Jim Mitchum (Robert Mitchum's son as "Man At Race Track"). Note also one of the producers is a guy named Gary Kurtz (Producer of "American Graffiti", "Star Wars", and "The Empire Strikes Back"). Director Monte Hellman was also the Executive Producer on Quentin Tarantino's Reservoir Dogs. Tarantino says about Hellman's movies, "They turn you on and really turn you off... because of their stultifying—realism."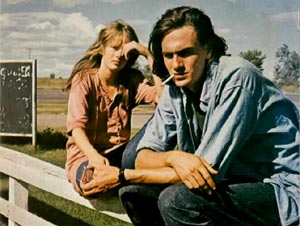 Although we can never see past the one-dimensional characters, excluding GTO, this film lives (or dies) on its vision and concepts of what freedom really is. It is a sure-fire spin-off of a culture that feeds on and relates to films like "Easy Rider" or "Bonnie and Clyde". Watch your local video store for this one... or you can always write Universal Pictures.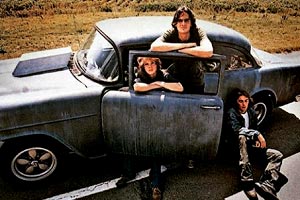 * Since this piece was written (1998), "Two-Lane Blacktop" is available on DVD (always remember to compare prices!)
Guido Sanchez -- copyright 1998