Point Blank (1967)
Directed by John Boorman
"Somebody's gotta pay," sneers Lee Marvin throughout the mind-curdling flick, "Point Blank" (1967). Marvin plays Walker (no first name), a tough, steely-eyed, emotionally-void, monotone-talking convict who is left for dead and is now seeking retribution. John Boorman ("Deliverance", "Excalibur", "Hope and Glory") made this film as his first for the Hollywood studio system. "Point Blank" is a film whose dialogue is minimal, where violence is caustically brutal and the law never shows up. It is a simple stylish story that is hypnotic and aggressive. It is a quasi-surreal story of crooked con men and a world of no values.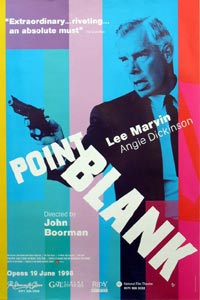 Walker joins up with an old buddy, Mal Reese (John Vernon) to rob a cash shipment from a mysterious group called "The Organization," on Alcatraz Island (years after it was closed). Walker's wife, Lynne who is also Mal's lover, joins them. After the heist Mal shoots Walker in a jail cell and, completing his double-cross, takes off with all the money and Lynne. Walker rolls outta the cell and amazingly swims to shore from "The Rock." Many cons drowned making this swim even without several bullet wounds. Anyway, there wouldn't be a movie without him so...
Years later (really, it's not clear how much time has passed) Walker sets out for revenge. He finds Lynne in a state of drugged depression. Mal had left her months ago for her sister, Chris. When Walker wakes up from a nap on her couch, she is dead. A convenient bottle of pills rests in her hands, or did he kill her? The film is told through strange bouts of flashbacks and repeated moments. It is a curious and wild ride of camera angles, non-linear storytelling, stripped-down sound and artistic compositions of design and color use. Solid colors blind you in a murky mix of grays and blacks before a barrage of blaring bright colors are thrown in for dramatic impact.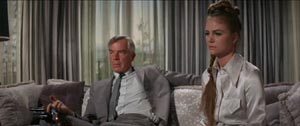 The film's tag line says it all, "There are two kinds of people in his up-tight world: his victims and his women. And sometimes you can't tell them apart." Angie Dickinson makes her appearance as Chris, Lynne's sister and Mal's new squeeze. All the guys around Chris treat her like some cheap whore on the make. After Walker's night of "passion" (A great montage!), Chris asks him, "Hey, what's my last name?" and Walker responds, "What's my first name?" Walker uses Chris to infiltrate Mal's penthouse in some sort of "Mission Impossible" scheme, and it is as believable as an M.I. plot. The two finally confront one another but Mal no longer has the money so Walker pitches him off the balcony (or does he?).
The story, called "The Hunter" was the first of twenty books about a character named Parker (Walker in the movie) written by Donald E. Westlake, using the pseudonym Richard Stark (Jeez, could these people use their real names once in awhile). It has just been remade with Mel Gibson and called "Payback" to be released this month. God help us all. The beauty of this gangster tale was its raw visual power and schizophrenic editing style, which gave the film the moniker of a modern day, color, film noir... deemed "Neo-Noir." Harsh muted daylight and glaring neon lit nights add to the atmosphere. I heard that the makers of "Payback" are going to process the film to give it that "same look". Also, listen for the eerie disproportionate soundtrack.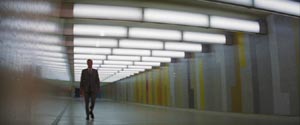 Watch for Archie Bunker... I mean Carroll O'Connor as the wacky Brewster, one of "The Organization's" kingpins. Also, check out a sly hired gun played by James Sikking ("Hill Street Blues") who respects Walker more than he wants to kill him. Keenan Wynn is great as the ever-present Yost. Quentin Tarantino has taken this concept of "The Organization" and tried to instill it into his films. He has remarked that the De Niro character in "Jackie Brown" is fashioned after Marvin's Walker (???). Even Martin Scorcese refers to "Point Blank" in "Mean Streets".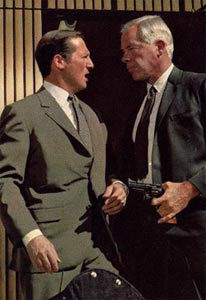 Anyway, edgy Walker seeks answers and his money, never quite grasping either. He is in an endless maze of moral chaos and haunted by the shooting. In the end you're left with the feeling that these things are really not what he is after at all. Am I giving away too much? See this flick! Some aesthetic theorists (my favs!) have hypothesized that the whole movie is a dream in the head of a dying man. You be the judge. One day they will release a letterboxed version of this classic crime thriller because the film is shot for the screen with characters and events occurring on either side of the frame. Walker hurls a man from the left to the right of the frame before rudely punching him in the balls! Yowee! Pan and scan is equally as painful! See if you pick up the big twist at the end before it happens.
Guido Sanchez -- copyright 1999