Near Dark (1987)
Directed by Kathryn Bigelow
"Killing you would be easy; they'd rather terrify you... forever. Pray for daylight!" A menacing mosquito sips the blood from a vein. One swat and crunch, it's over. Great opening imagery and all you need to know about "Near Dark" (1987). What could be more horrific than a group of leather-clad, hippie, biker, hillbilly vampires traveling around in a winnebago? Nothing! "Near Dark" has become a cultist's wet dream on the Internet and horror fans have embraced it as a classic over the years. Kathyrn Bigelow's ("Blue Steel", "Strange Days") directorial debut weaves a romp through the nocturnal world of the bloodsucking undead with a 1980's Valley Girl meets Huckleberry becoming a "Romeo and Juliet" yarn. This picture epitomized the great sub-genre of the cowboy noir thriller with some grisly bloodletting thrown in just for fun.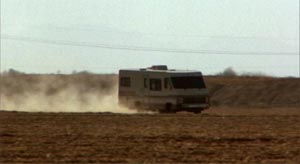 A country bumpkin and reluctant vampire-to-be, Caleb Colton (Adrian Pasdar: "Carlito's Way", "Top Gun"), falls for pale, anorexic vampire vixen, Mae (Jenny Wright: "Lawnmower Man", "Young Guns II") who he sees sucking on an ice cream cone one moonlit night. It's love at first bite in front of the malt shop in this tiny Oklahoma town. The opening dialog gets you set for what's in store dramatically: Caleb, "Can I have a bite?" Mae: "A bite?" Caleb: "I'm just dying for a cone." Mae: "Dying?" A rush of long lenses, neon lights, smoky streets and a Tangerine Dream soundtrack clue you in that all is not right in this little mid-western hole-in-the-wall. The horny Caleb races to get Mae "home" before sunrise, which seems to occur every ten minutes in this particular state. The old hide-the-keys-to-the-pickup-for-a-kiss routine backfires when Mae not only gives Caleb a kiss that melts his fillings but a nip offering eternal life as well.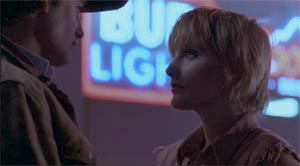 After a smoldering rough start getting home, Caleb is shanghaied by a motley gang of criminals led by everybody's favorite walking corpse, Lance Henricksen, as Jesse. Also, reunited with him after their stint in "Aliens" (Bigelow married James Cameron during production) are the buxom knife-wielding Jennette Goldstein as Diamondback, and psycho Hell's Angel Bill Paxton as Severen. Homer (Joshua John Miller) is the sexually frustrated 14-year-old vampire to round out the fiendish "family." Caleb's father, Loy, and 5-year-old sister, Sarah, head out after the clan when they witness the abduction. Caleb is given a chance to join the clique with his first murder. Unwilling to become a killer, Caleb survives by erotically (?) sucking the blood of Mae in lusty delight. These not-so-subtle scenes mix sexually charged excitement with visceral gore all in the shadow of hard pumping oil drills. Hmm...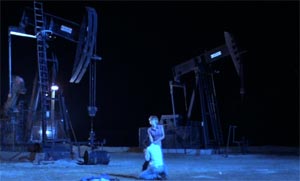 The script to this independent flick is filled with goofy one-liners ("Hey Jesse, remember that fire we started in Chicago?") that eerily remind you of the other vampire movie that came out the same year, the Hollywood product "The Lost Boys." "Near Dark" never slipped out of the shadow of that blockbuster and only pulled in about 3.4 million dollars.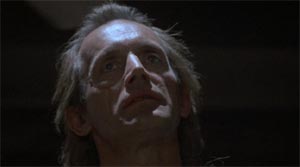 Okay, so Caleb is forced to make his first kill at a lonely honky-tonk bar at seemingly 5 a.m. where no one is drunk and everyone is wide awake. A gruesome massacre ensues. This is one of the best scenes of the movie as the night-loving butchers use the patrons for their personal buffet. Severen drinks with gusto the blood of a local and quips, "Finger lickin' good!" After Caleb allows his victim to run for freedom the gang agrees on his execution. Too bad it's daybreak (again) and they must race for hibernating shelter. When the kid goes to the law a shootout occurs at the hotel where bullets are useless and daylight is lethal. Shafts of light are deadly weapons against the vamps. Caleb manages to save the gang by risking his own "life" in the sunlight and that earns him a slot in their traveling Manson family.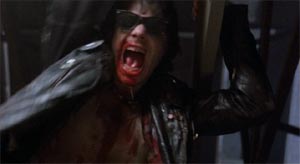 A pleasant night at the Godspeed Motel erupts into another fight as Caleb's sister and father are confronted by the group. Coincidentally they are staying there as well. The Colton's make their escape in the "shadow" of yet another dawn. Am I giving away too much? A strange thing occurs when you like both the vampires and the family trying to stop them. Ultimately Caleb is the crux of the story and he escapes with his father for the great transfusion scene... Whoa! Vampirism can be reversed! The horror purists hate this concept but it's a movie, you freaks! I've given away too much already, go rent this one tonight and watch for a few beautiful gaffs including: the boom mic in the opening scene with Caleb and Mae, the scene where he shows her his horse there seems to be someone else holding the animal... I have no idea who this dude is. Severen locks the door trapping Caleb's family but Sarah escapes without unlocking the door! Picky, picky!
One last point about the ending... much has been argued about the great sun-up-love-story-happy-ending scene but judge for yourself whether it really is that... or is there still a sense of the uncertain future in the air. Judge for yourself.
Guido Sanchez -- copyright 1999