Drugstore Cowboy (1989)
Directed by Gus Van Sant
"What do you want, my life's story? Lady, I'm a junkie. I like drugs," says Bob Hughes (played by Matt Dillon) to a well meaning but idealistic counselor at a drug rehab clinic. Bob is a self-described dope fiend. He tells his story to her, and us, with simplicity and the truth as he understands it. He has lived by a kind of gambler's code of you win some, you lose some... although, he knows he's doomed to lose, and lose big. He is looking for the signs to let him know when it's time to walk away before it's too late. The year is 1971 and Bob, who is 26, is the "old man" leading his "crew" on a robbery spree across the Pacific Northwest. They knock off one friendly, neighborhood drugstore after another. If you want money, rob banks. Bob and his crew want drugs, so they rob drugstores. These are hardcore junkies not some hippie peaceniks experimenting with acid and pot.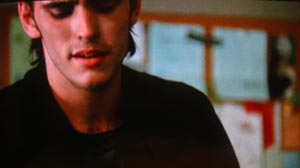 Getting high isn't easy, though, "I'll tell you, no construction stiff working overtime takes more stress and strain than we did just to stay high." Bob's little drug-family consists of his hooked-to-the-gills wife, Diane (Kelly Lynch); a young hood called Rick (James Le Gros), who isn't the brightest bulb on the shelf but is a good kid in his own way; and Rick's "old lady", Nadine (an 18 year-old Heather Graham). Nadine is a pharmacy counter clerk who took up with the gang during one of their robberies, a decision that changes the direction of all of their lives.
Part of what makes this group likable is the way in which they go about the robberies. They don't stickup drugstores or smash-and-grab loot. They use their heads and develop scenarios with each member of the crew playing a specific role to distract the hapless druggist while Bob empties the drawers of their narcotic treasures. The goal isn't to hurt anyone, it's to get the drugs, and then consume them as quickly as possible. What they prize above all other drugs is "powdered D" (powdered dilauded), "the best goddamn pharmaceutical dope money can buy". Diane observes that it only takes them a week to shoot a bottle (worth $8,400 in 1971 dollars) up their arms.
There's a bit of "Oliver Twist" in this story about a group of threadbare, down and out thieves. Bob is the group's Fagin, Artful Dodger and Oliver all rolled up into one. "Please, sir, I want some more", and more, and more, and more. It will never be enough. You like the gang despite their huge flaws. Their down-at-the-heels style consists of knock-off Gucci shoes, mohair sweaters and plaid pants. They are more proto-grunge than flower waving hipsters. Even their slang is more rooted in the coffeehouse beatniks of the early 60's than the San Francisco love children inhabiting their immediate universe. They don't rationalize their lifestyle and actions with talk of mind expansion or rebelling against the system. They crackup at the idiocy of an anti-drug commercial on TV, "The last time I dropped acid, I decided to draw a picture of myself (the actor then shows a piece of paper with a crazy Picasso-like face on it). Groovy, isn't it?" There are many difficulties in the life of an addict but drawing like Picasso is not one of them.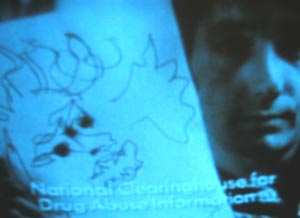 Gus Van Sant's Drugstore Cowboy is one of the best movies of the 1980's. It might be the best film that either Matt Dillon or Gus Van Sant will ever do. The knowing and realistic plot derives from James Fogel's novel of the same title. Fogel spent 35 of his 53 year life in prison on various drug-related charges and this insightful story is the result of having been there and done that. This is Gus Van Sant's first major feature and his treatment of the subject matter is just right, steering the material in the direction of explanation rather than judgment.
It also has great performances by Matt Dillon, Kelly Lynch, James Le Gros, Heather Graham, James Remar, Max Perlich and William S. Burroughs. Matt Dillon's portrayal of Bob Hughes is subtle. Bob is a charming and pathetic loser who, unknowingly, is on the road to redemption. The scene where he returns to his mother's house to pickup some badly needed clothes after a police raid is tragic. Although it has funny elements, it's played straight and pathetic, as a situation like that would be in real life. Bob's heartbroken mother, played by veteran supporting actress "Amazing" Grace Zabriskie (Laura Palmer's mom in "Twin Peaks"), knows well to what depths her son has fallen. She says as much to Diane, "He is a thief and a dope fiend, and that is more important to him than I am... I don't hate you Diane and I don't hate Robert either... I truly feel pity for you both. You are grownup now and you still act as children that want to run and play. You can not run and play your whole life."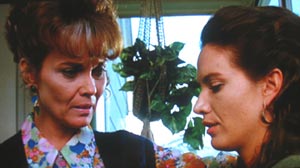 When the drug counselor asks Bob if he's ever considered helping fellow drug addicts to cleanup, he responds matter-of-factly, "To begin with, nobody, and I mean nobody, can talk a junkie out of using. You can talk to them for years but sooner or later they're going to get hold of something. Maybe, it's not dope. Maybe, it's booze. Maybe, it's glue. Maybe, it's gasoline. Maybe, it's a gunshot in the head, but something... something to relieve the pressures of their everyday life, like having to tie their shoes."
Bob knows himself well. He knows the power drugs have over people and what keeps them coming back for more. He waxes poetic during the experience, "I laughed to myself as I pictured dilauded in such great amounts that the spoon would literally be overflowing. Upon entering my vein the drug would start a warm itch that would surge along until the brain consumed it in a gentle explosion that began in the back of the neck and rose rapidly until I felt such pleasure that the whole world sympathized and took on a soft, lofty appeal. Everything was grand then. Your worst enemy wasn't so bad. The ants in the grass were just doing their thing. Everything took on a rosy hue of unlimited success."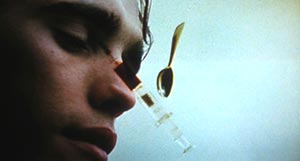 Every addict eventually hits bottom and either surrenders completely to endlessly "chasing the dragon" or realizes the only way out is to completely give up all drugs. To achieve this means changing your life in ways that will be unacceptable to your druggie friends. Bob tries to explain to Diane, "... for all the boredom the straight life brings, it's not that bad... I actually wake up some mornings and I feel like something good is going to happen today... " Words and reason aren't going to convince a junkie to stop and Bob knows it. For him, stopping was seeing the signs, and knowing that his time was up. The signs are different for everybody. For Bob, it's dogs, mirrors and hats.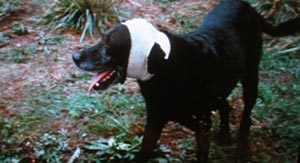 Not to worry, there are great big chunks of story and subplot left unexplored by this little review. "Drugstore Cowboy" is a real lost treasure and is well worth a DVD/video rental so you can enjoy the whole 104 minutes. However, don't expect non-stop chase scenes, over-the-top action, or sensationalized depravity that usually characterize stories about drug heists and dopers. Bob and his little drug family are portrayed as frail human beings who are just doing anything they can to stay high.
Although this is a story of redemption, you get to see a number of different fates that could befall anyone who struggles with addiction. "Drugstore Cowboy" can be viewed as the flipside of Darren Aronofsky's "Requiem for a Dream" (one of the best films of the zeros -- is that the name for the era we are in now?). In "Drugstore Cowboy", the Herculean task of defying drug addiction is a possibility. As Bob would say, "Most people don't know how their going to feel from one moment to the next, but a dope fiend has a pretty good idea. All you've got to do is look at the labels on the little bottles."
Tom Graney -- copyright Hollywood Outsider 2002