Days of Heaven (1978)
Directed by Terrence Malick
"Days of Heaven" (1978) came out in the year of "The Deer Hunter," "Saturday Night Fever," and "Midnight Express." A year that saw "Grease," "Animal House," and "Superman" make millions. It is a visual masterpiece of nostalgic beauty and lonely landscapes by Terrance "I-make-a-movie-every-ten-or-twenty-years" Malick ("Badlands"). "Days of Heaven" has only one requirement: if you can't see this film on the big screen make sure you rent the widescreen letterboxed video edition.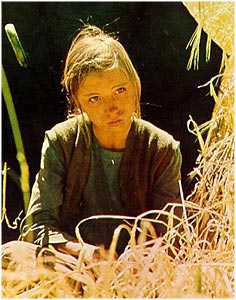 "Days of Heaven" is a turn of the century Greek tragedy of a love triangle told from the pseudo-future tense point of view of the young Linda (Linda Manz "The Game"). It is a rock-solid morality play with locusts, barnstormers, terminal illness and a flying circus. The story involves Bill, her older brother, played by Richard Gere as a Chicago mill worker who accidentally kills the foreman in a dispute and must go on the lam. Wow, a Richard Gere movie I actually like, perhaps its because he doesn't say much. His girlfriend, Abby (Brooke Adams "The Dead Zone") is dragged out of the city slums to jump a boxcar going west. The three end up in the Texas panhandle where they accept jobs working on a wheat farm. In his screen debut, Sam Shepard is the shy land baron, with a never-explained fatal disease, who owns the wheat farm.
In an effort to avoid talk Bill and Abby pose as brother and sister. This is pre-First World War America after all. The "farmer" becomes infatuated with Abby. When Bill learns of Shepard's illness he tries to convince Abby to marry him, in hopes he will die soon and she will become a rich widow. She reluctantly marries the farmer when the harvest season is over.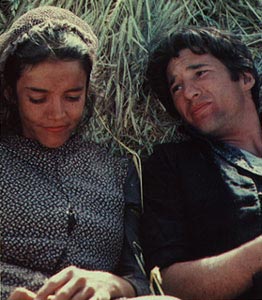 It is Malick's ever-present use of nature that works with and against the drama that is not only a backdrop but also a living character. There is barely a scene that takes place indoors and the limitless prairie stretches forever into panoramic vistas of vivid colors and textures (Think this is a gorgeous movie? Check out "Badlands"). It's beauty is important because the movie is primarily a visual one with very little dialogue. The entire film was photographed during "magic hour" which is that time of the morning just after sunrise and at the end of the day just before sunset. Oh, wait till you see all that golden grain and the huge Victorian mansion on the plains of Texas. It was shot entirely in Alberta, Canada over the course of several years due to the fact that the movie covers various seasons of the year. Nestor Almendros won the Academy Award for Best Cinematography for the film with, as the credit states "additional photography by Haskell Wexler." The credit has always pissed Wexler off and in a letter to critic Roger Ebert he described sitting in a theatre with a stopwatch to prove that he shot more than half of the footage. Ultimately, Paramount decided the credit.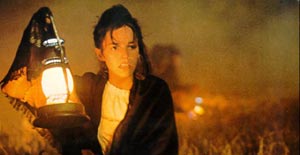 The characters communicate on a very subtle level. The audience understands them without being force fed every last detail about their lives. If you're like me, you will find it a welcome relief from the constant machine-gunning of banal dialogue in most films today. These people are not into speeches about how horrible their lives are. Linda's voiceover is the primary dialogue and plot filler of the movie. She pathetically speaks in a strange cynical poetry, both melodramatic and enlightened yet always streetwise. I just can't quite think of another film like this one.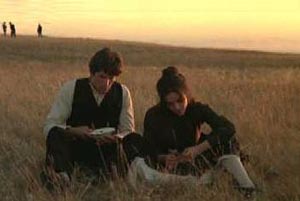 Anyhow, Abby marries Shepard while both Bill and Linda enjoy the good life for awhile. Two strange things turn the scheme on its head though. One, Linda falls in love with Shepard and two, Shepard's disease-ridden terminally ill body seems to get better each day he's with Abby! Hello! Shepard is suspicious of the "siblings'" relationship when he sees them kissing! It is a story of love and loss as Gere has it out with Abby and is resigned to leave with the flying circus... that's right. The story is unclouded by sentimentality which has given it the unearned reputation of being cold and distant. When Gere returns to reclaim his love, things heat up quick.
The music by Ennio Morricone is simply mythic and powerful. I'm sitting at home typing this when suddenly I hear the theme music used in a commercial for Colombian coffee. Can you say sacrilege? The theme is a variation of the Saint-Saens piece "Carnival of the Animals." The tagline for the film was quite appropriate: "Your eyes... your ears... your senses... will be overwhelmed."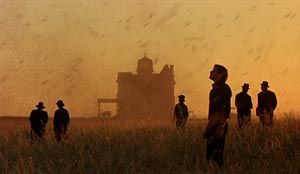 Which brings me to Terrence Malick, the ex-MIT philosophy professor and former journalist. There has been much mystery surrounding the secluded filmmaker. Since "Days of Heaven" he has not made a film till last year when he directed two, "The Thin Red Line" with Sean Penn and "The Moviegoer," with Julia Roberts and Tim Robbins.
Many critics dismissed "Days of Heaven" when it came out as just another pretty picture. Malick is in full command of the tools of the cinematic medium. He has been known to fix microphones to tree trunks and plants in order to bring the power of nature to his films. All the characters in his films (all two of them) seem powerless against the forces of nature and fate.
Finally the awards the film garnered say it all. On top of the Cinematography Oscar, "Days of Heaven" was nominated for three more. It won Malick "Best Director" from the Cannes Film Festival, The National Society of Film Critics and the New York Film Critics Awards. Almendros also walked away with a dozen other awards that year for his work. Don't miss the night of the locusts... it is a thing of cinematic beauty.
Guido Sanchez - copyright 1999