Kull the Conqueror (1997)
Directed by John Nicolella
It's been a rough year for Robert E. Howard fans. First the overrated art film about his sad life ("The Whole Wide World") then this corny, unfun, retelling of his barbarian saga "Kull". If Howard could only see what Raffaella DeLaurentiis has done with his "Kull", he'd kill himself, again. Missing is the chuck all the rules and live like a freedom-loving savage mindset that made Howard's writing so popular in the first place. After all, "Kull" is most famous for his very un-PC motto, "By this ax, I rule!" Both the motto and the escapist joy of the piece are gone.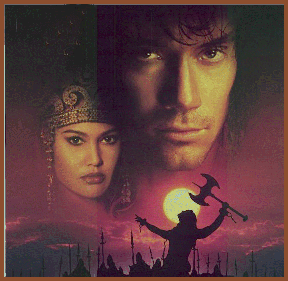 DeLaurentiis has taken Kull's ax away and transformed him into a good, little boy. She has shoehorned him into the uncomfortable role of a dimwit crusader against social injustice who runs into trouble when he crosses paths with a resurrected demon-queen. However, DeLaurentiis did retain the cheesier elements of the sword and sorcery genre; bad heavy-metal wigs; bondage/leather gear; clunky lines; stiff acting; bloodless sword and ax play; hokey faux-castles and dirt cheap "special" FX. Sometimes these elements can work. "Conan the Barbarian" (another Robert E. Howard character) and "Dragon Slayer" are good films. Sometimes not, like, "Willow" and "Conan the Destroyer", which suck big elephant cocks. "Kull" offers nothing new in the way of fantasy and worse yet, it's not nearly as fun or inventive as an average "Hercules/Xena" episode, so it joins the crowd of films that suck big time.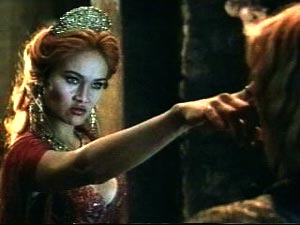 Herculean Kevin Sorbo could have been a fine "Kull the Atlantean" if he were pushed in the direction of an adventurer instead of a do-gooder. Ditto for the rest of the cast which features "Wayne's World" babe, Tia Carrere, as the best looking demon to ever don a bustier. The gang is completely wasted by a script that emphasizes the fantastical elements over conflict between the characters. Evidently, DeLaurentiis tried to update the genre by tearing its guts out and making a movie about barbarian hordes that you can take the whole family to see.
The story of "Kull" should draw its strength from the desire of the young (and old) to put the complexities of the modern world aside for the imagined simplicity of the past. To become, for a couple hours, a two-fisted, balls to the walls, raw meat chewing, dirty, filthy savage, free from all rules and restrictions. What school kid hasn't fantasized, "Take the garbage out? No time, ma, I'm off to pillage and burn the neighborhood. Where's my fucking ax!" Okay, maybe it's just me... there are no quotable lines from "Kull," while there were scores of way-over-the-top gems in "Conan the Barbarian." In what may be the genre's best moment, a martial arts instructor demands to know from Conan, "What is best in life?" Without a moments hesitation he (Arnold Schwarzenegger as Conan) barks, "Clush de enemy! See dim dliven before you and hear de lamentations of de vimen!" Now, THAT'S a barbarian! -- Rating: $1.25
Tom Graney -- copyright 1997 Hollywood Outsider