High Crimes (2002)
Directed by Carl Franklin
If you like your crime thrillers straight up like a good shot of whiskey, "High Crimes" should satisfy. Director Carl Franklin wastes no time on frilly details before plunging headlong into its tale of deceit, murder, and government cover-ups.
Ashley Judd is Claire Kubik, a hot shot lawyer who takes on the military establishment to clear her husband's name when he's accused of killing innocent civilians in EL Salvador. Only then, long before he met Claire, he was not known as Tom Kubik (Jim Caviezel), but Ronald Chapman.
We'll call him Tom for simplicity.
As it turns out, Tom was part of an elite hit squad on a secret mission when someone in his squad went crazy and started icing anyone who wouldn't or couldn't come up with the right answers. Tom claims he was framed and has been on the run ever since. In the meantime, he's built himself a successful contracting business, met and married Claire, and is hoping to raise a family. In short, he's been living the American Dream. How this American Dream comes to an abrupt halt and exposes Tom's past is part of the movie's fun, so I won't bother with the details.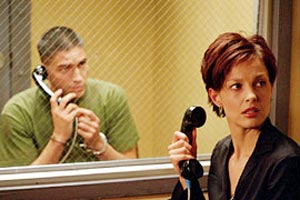 Claire is torn over having lived Tom's lie as Mrs. Kubik, but she's convinced he's innocent. Besides, what mother (Yes! She's pregnant) would want a liar, a jailbird and a cold-blooded killer as the father of her child. Unschooled in the ways of military justice, she enlists the help of an ex-JAG lawyer who now serves a more unsavory clientele as a civilian. Grimes (Morgan Freeman) is his name. Breaking the rules is his game. With the help of a novice military lawyer (Adam Scott) and some comedy relief from Amand Peet as Claire's sister, they are constantly on the verge of uncovering the truth. But they are constantly thwarted by the government's two favorite words. TOP-SECRET!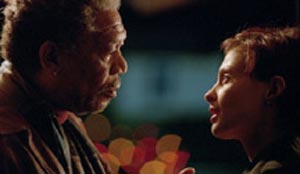 Much of the suspense in "High Crimes" seems too fabricated to create the chills and thrills the story strives for, but there are enough red herrings and plot twists to satisfy any hardcore mystery buff. And the performances are first rate. Bruce Davison adds another small but pivotal roll to his resume (See him in "Apt Pupil"(1998), "The Crucible" (1996) and "X-Men" (2000)). Here he adds menace as a top level member of the Pentagon who refuses to reveal the secrets to Tom's past because he has a few secrets of his own to hide. Jim Caviezel ("The Thin Red Line", "Frequency") is a chameleon who colors his performances with different shadings from one movie to the next. As for Ashley Judd and Morgan Freemanů if I had to compare their rapport to any other movie, it would have to be "His Girl Friday" (1940) with Cary Grant and Rosalind Russell. Although "High Crimes" is not a comedy like that old chestnut, the stars bring enough effortless humor to their characters to invite the comparison. They really make you care what happens to them as well while the jury is still out on Tom. When Grimes decides to take a drink after being on the wagon, Freeman makes you feel his pain. When Claire finds out, Judd makes you feel her regret. It's small moments like these that make "High Crimes" a solid entertainment. -- Rating: $6.50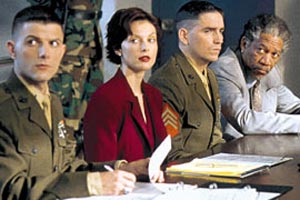 Here are a few "is he or isn't he" movies.
"Suspicion" (1941) -- Dir. Alfred Hitchcock: Oscar winning Joan Fontaine becomes convinced that her new husband is out to kill her when his business trips coincide with some shady doings. Cary Grant is the husband.
"Undercurrent" (1946) -- Katharine Hepburn wants to know if her husband is really crazy or crazy like a fox. Unusual role for Hepburn but not Robert Taylor who plays her husband. Also with Robert Mitchum.
Another one with Ashley Judd and Morgan Freeman "Kiss the Girls" (1997) -- Freeman is a forensic psychologist on the trail of a psycho who kidnaps women who sometimes end up dead. And when his niece is taken by the sicko, Judd is a doctor who escapes from the bad guy and helps Freeman get his man. Not a great film but once again, Morgan Freeman and Ashley Judd play well together.
The movie that put director Carl Franklin on the map. "One False Move" (1992) -- Billy Bob Thornton co-wrote this bona fide crime classic and appears in a supporting role as a drug addicted killer on the lam with his girlfriend and a brilliant sociopath in Arkansas. Tom Paxton plays a small town cop whose intelligence is shortchanged by the FBI. With a superb Michael Beach and Cynda Williams. This movie was written off by its distributors until word of mouth saved it from going straight-to-video. It had a short theatrical run but became a cult classic that ended up on a lot of critics' Ten Best Lists.
For my money, this next one has Ashley Judd at her best. "Heat" (1995) -- This is a world class crime drama from the man who created Miami Vice, director Michael Mann. Robert De Niro is a high tech thief out to make a big score before he retires. Al Pacino is the top cop determined to get him. The big bank robbery and shoot out that results is one of the most exciting scenes ever put on screen. Ashley Judd may not be the star but she certainly makes her presence felt as the wife of career criminal Val Kilmer. The rest of the amazing ensemble cast includes Tom Sizemore, Jon Voight, Tom Noonan, Mykelti Williamson, Wes Studi, Ted Levine, Natalie Portman, Diane Venora, Amy Brenneman, Hank Azari and others.
Greg Murray -- copyright 2002