Happiness (1998)
Directed by Todd Solondz
Anyone familiar with Todd Solondz's first film, "Welcome to the Dollhouse", will know enough not to be mislead by the title of his follow up effort, "Happiness". If anything, you can be sure that Solondz will take you to a completely different place than the title suggests. "Welcome to the Dollhouse" showed how miserable teenage life can be. "Happiness" seems to be a natural extension of that idea, carrying it into the adult world in the form of its character's sexual and romantic longings.
Starting with the first scene, Solondz dumps you right in the middle of the most awkward moment of an uncomfortable situation: the moment just after Joy (Jane Adams) has broken up with her boyfriend, played by John Lovitz, while they're eating at a restaurant. There are no words spoken in the first few seconds -- we only see the pained expressions on the faces of the newly former couple. By the way, don't be fooled by Joy's name. Like the title, it's just the opposite of what's implied. Also, cutting Lovitz loose is the only strong and decisive action she takes. It soon becomes apparent that, although she is basically a kind person, she willingly lets everyone walk all over her.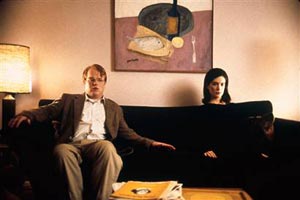 Joy is the fist link in a chain of a dozen or so characters that we meet along the way: there's her sister, Trish, who is a modern day June Cleaver and openly feels that way about herself, thinking she has it all, even pitying Joy for her failures. However, Trish is oblivious to the dark secret that her husband (Dylan Baker) is hiding. The scenes that Baker's character has with his son and his son's "girly" friend are easily the most disturbing scenes in the film (which is really saying something). Joy has another sister, played by Lara Flynn Boyle, who is a successful poet and takes every opportunity to let her sisters know it. What she doesn't let them know is that she really feels hollow and that she is a sham. Boyle lives in an apartment building across the hall from a mouth-breathing pervert (Philip Seymour Hoffman), who methodically scours the phone book, making obscene calls to women. Down the hall lives a plump but pleasant female who is lonely and repeatedly uses the death of the doorman as an excuse to knock on Hoffman's door. Then there are Joy's parents (Ben Gazzara and Louise Lasser) who are living in Florida and are splitting up after forty years of marriage. None of the characters are without some form of an outward hardship or inner secret.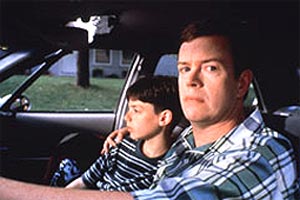 There are plenty of characters and enough situations to keep you from noticing the 120-plus minute running time. The dialogue ranges from sharp and vicious ("You'll be shit for the rest of your life!") to longer scenes that include the most intimate, soul-baring tales that come out of nowhere. Solondz takes situations to the extreme, not stopping until all comfort zones are eliminated and the viewer is left thoroughly disturbed. For as offbeat and potentially offensive as this movie can be, it seems that Solondz has perhaps made some attempts, however small, to attract a more mainstream audience. He chose better known actors like Gazzara and Boyle and he occasionally goes for pure shock value. More than once, he makes the "hair gel" scene in "There's Something About Mary" look like a Disney gag . These scenes could easily have been left out, but they'll no doubt be the ones that get the word of mouth going and put more asses in the seats. -- Rating: $7.50
Mike Santoro -- copyright 1998