The Guys (2002)
Directed by Jim Simpson
"The Guys" is the first movie I've sat through in a long time where every member of the preview audience remained in their seats after the house lights came up. You could have heard a pin drop. A moment passed before people quietly got up from their seats and left the room without a murmur. I surmised that they did, as I did, reflect on the value of their own lives after listening to Nick the fire chief's last speech about the men in his firehouse who lost their lives at the World Trade Center on 9/11. Ironically, the World Trade Center is never mentioned or seen in "The Guys," a heartfelt rendition of a play by journalist Anne Nelson about one man's efforts to say something meaningful at the funerals of his heroic brethren. The creation of his eulogies is the heart and soul of "The Guys". It is not about the death of his men, but about the lives they led.
Anthony LaPaglia (TV's Without a Trace) is Nick, the top gun at his firehouse who is searching his soul to find the right words to memorialize the common humanity his men brought to his firehouse before they perished on 9/11. He meets Joan, a writer, who through her experience as a journalist, knows how to put Nick at ease and help him reveal his innermost thoughts and feelings. Seemingly unimportant details are put together to form the mosaic of people's lives. Nick recalls the personality traits unique to each individual -- a father who lived for his family -- a tinker who loved to fix things -— the self proclaimed master chef whose meals left something to be desired, and a proby (new guy on probation) whose youthful enthusiasm reminded Nick of his own. Slowly but surely Joan helps him turn his memories, thoughts, and musings into eloquent eulogies filled with the full spectrum of human emotion.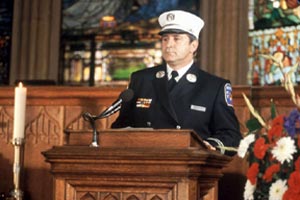 In retrospect, it's hard to believe that "The Guys" is, in essence, composed of short intimate conversations between two people. The memory of 9/11 is still so potent that is unnecessary to mention the World Trade Center while they talk. The only recognition of that tragic day is the displayed date left by a security camera on a videotape as a lone faceless fireman grabs his gear.
"The Guys" is not a big budget movie. but its themes are enormous. They are revealed simply and eloquently. The simplicity with which Anthony LaPaglia and Sigourney expose the feelings of their characters is the movie's saving grace. I never felt like I was watching actors, but real people with a love for life trying to work out their grief by using their God given gifts -— Nick through his talent for leadership and Joan as a writer. Nick's jumble of thoughts are turned into a coherent tributes to his men. Director and co-screenwriter Jim Simpson lets the words put into their mouths by playwright and collaborator Anne Nelson speak for themselves. I laughed and cried at Nick's stories and sat in wonderment at Joan's sensitivity which -- I imagine -- is a reflection of the author's own. I can't imagine anyone not taking "The Guys" to heart. I loved this movie!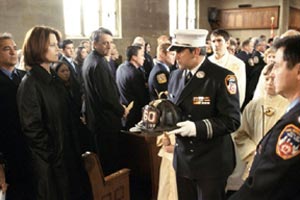 Postscript: "The Guys" opened for a limited engagement during the 2002 holiday season to qualify for awards consideration. I have yet to figure out why. It's a small movie with a limited advertising budget. Any buzz it generates will be by word-of-mouth. Consequently it opened small in April and seems to have been buried in the aftermath of the Oscars. A similar fate was dealt to one of my all time favorite movies, "Shadow Magic" -— a wonderful international award winning Chinese movie about the first motion pictures shown in China at the turn of the century. It was released by Sony Pictures Classics while they were busily promoting "Crouching Tiger, Hidden Dragon."
Likewise, Focus Features has put its muscle behind the Oscar winning "The Pianist" letting "The Guys" fall to the wayside. -- Rating: $9.50
Two personal favorites with Anthony La Paglia
"Lantana" (2001) -— Anthony La Paglia stars a philandering detective investigating the disappearance of a psychiatrist (Barbara Hershey) who just happens to be his wife's shrink, unbeknownst to him. This Australian starts off like a murder mystery but turns into a psychological study about a group of people who's fates are linked to the investigation of the missing woman. Also with Geoffrey Rush as the husband of the psychiatrist.
"29th Street" (1991) —- La Paglia plays Frank Pesce, New York States first Lottery winner in this whimsical tale about one man's unerring good luck which continually reveals itself through bizarre sets of circumstances. This is also one of Danny Aiello's best films. He plays Frank's father. If you like Frank Capra movies, you will love this.
Two personal favorites with Sigourney Weaver
"The Year of Living Dangerously" (1983) —- Australian director Peter Weir put Sigourney through the paces as Mel Gibson's love interest against the backdrop of Indonesia's political upheaval in the mid sixties. Linda Hunt won an Oscar for playing a man at a time when no one who saw the movie knew who she was and accepted her as a 'man' in the movie.
"Working Girl" (1988) Dir. Mike Nichols —- Sigourney is a hoot as the Melanie Griffith's shrill shrewish boss who thinks nothing of stealing her underling's ideas. With Harrison Ford and Philip Bosco
Greg Murray -- copyright 2002