"Gay Star Wars" or "Star Wars: A Young Man's Search for His Sexual Identity" (1977 - 2000)
Directed by George Lucas (kind of)
A few years ago, I was sent this little comedic gem about "Star Wars". Unfortunately, I don't know/remember who wrote it, but I think it's a good time to rerun this piece with "Star Wars: Episode 2 - Attack of the Killer Tomatoes" only a week from release! I made some minor contributions but most of it belongs to the unknown author. If you ever wondered what it's like to go to film school, wonder no more! The following drivel can be heard in any film theory class. -- Tom Graney
*** The author of the following piece contacted "HO" looking for his well deserved due. In spite of popular opinion, the folks here at "HO" aren't plagiarizing scumbags. We've never taken credit for any of the material we've stolen! Karl Mamer wrote the following piece and posted it on UseNet in 1996: "Gay Star Wars". Karl, we posted it because we're fans. You're a genius!***
---------------------------------------------
What I find amazing is how "Star Wars" fans miss the entire point of the "Star Wars" series. It is clearly an allegorical tale of a young man coming to terms with his homosexuality. Here's the concept: Luke subconsciously realizes he's gay yet he cannot come to terms with his sexual orientation. He pretends to be heterosexual but, deep inside, he knows that he is not. He doesn't understand what he is. This crisis of personality is reflected in all the people and places in the "Star Wars" universe. His dual nature is even cosmically illustrated at the beginning of the series as Luke gazes at the twin suns of Tatooine. He has to choose between his two lives. One life is that of an acceptable sham, but his true life would be viewed by some as being "deviant" and morally bankrupt. Luke is a very confused kid. If you think about it, you'll see that I'm right.
The Symbols
* Luke lives on a desert world. Most of the structures are round which is, clearly, female symbolism. The people of this world live in subterranean/womb-like dwellings. The dry planet is symbolic of an un-lubricated, un-aroused vagina. Try as Luke might, he cannot escape, i.e. arouse, that vagina. The locals (the straights) spend all their time drawing out the moisture. Luke is not at all interested in this activity. Instead, he longs to be with his exclusively male friends. He is particularly enamored with a swarthy, dark-haired, older man with a mustache and the phallic name of "Biggs." Luke fantasizes how happy he would be if he went to the all-male "academy" with Biggs. However, Luke's Uncle Owen stands in the way of this decision. Uncle Owen represents the anxiety that straight society has about the imagined lack of moral strength of the gay lifestyle. Unable to communicate their feelings in a constructive manner, Luke runs away.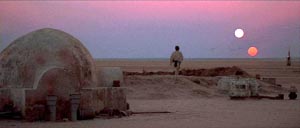 * Luke surrounds himself with phallic symbols: light sabers, X-wings (take a look at the front of an X-wing, it's clearly the head of a penis), moisture vaperators, R2 Units, and blasters. Further more, C-3PO is cinema's first robotic "queen." C-3PO is Luke's first contact with an openly gay sentient. However, this is not the normal, loving relationship that Luke secretly desires from another male. The relationship between C-3PO and Luke is inherently sick and sadomasochistic in nature. Basically, Luke has nothing but disdain for the tittering, effeminate robot, and C-3PO's attitude toward Luke is submissive to the point of being dog-like. He lovingly and pathologically refers to Luke as his "master" and, in one of the most creepy moments of the entire series, Luke gives C-3PO an oil bath which the droid enjoys in disturbing, orgasmic bliss. Likewise, C-3PO's "counterpart," R2D2, is clearly the "butch" or "top" in the relationship between the two inseparable robots. R2D2 is a butt plug-shaped droid and even has extra probes and appendages that he can extend and use to penetrate other mechanicals. Both droids have been hobbled by "restraining bolts" before being "sold" to Luke. Obviously, this is not the basis for a healthy relationship of mutual respect and love. The droids, although gay, belong to the fringe of gay culture and can't satisfy Luke's more mainstream, pent-up desires. Luke realizes that he will have to search further to find the answers to the questions that are plaguing him.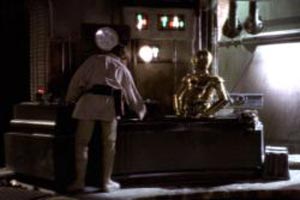 * As a lost runaway, Luke encounters "old Ben" (a sailor) who once "knew" his father. He moves in with Ben then accepts his light saber (i.e. takes a penis) from this older, more experienced sexual mentor. Ben constantly implores Luke to stop worrying about appearances and to "trust his feelings", and to "let go"! "Let go, Luke" is clearly a reference to relaxing the muscles to allow anal penetration. "The Force" is a reference to the force one requires to achieve anal penetration. It's in the midst of Ben's seduction of Luke (teaching Luke the ways of "The Force"), just when he is starting to deal with his new feelings and beginning to understand a new, gay world, that stormtroopers arrive. The stormtroopers are clearly sperm. The sperm have penetrated the Death Star, which is symbolic of a woman's egg and represents an enormous challenge to Luke's emerging sense of identity. Just when everything seems to be getting clear to him, Luke is captured by the egg. He now needs Ben to release him from the egg's grip. This requires Ben to utilize "The Force" at which he is a legendary master. Before Luke can finally accept himself for who he is, Ben dies. Though he only knew Ben for a short time, Ben's death is more traumatic than the horrific deaths of Uncle Owen and Aunt Beru, two people who raised him since childhood! The crisis is only temporarily resolved when Luke decides to destroy the egg himself. An indication that Luke's dilemma may be making him dangerously disturbed is his psychotic episodes where he hears voices in his head saying things like, "Use The Force, Luke", and "Let go, Luke!", over and over, again. There now arises a concern that Luke may be falling victim to "The dark side of 'The Force'".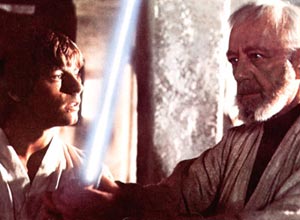 * To destroy the egg, Luke fights against and evades wedge-shaped Star Destroyers. The disparaging term "cunt" is related to the term "cuneate," a Latin word, which is defined as "wedge-shaped," again, vaginal symbolism Luke attempts to rebel against. As a consequence, Luke sends his friend "Wedge" away. Luke has another straight friend, (with an appealing masturbatory name) Han Solo. Though he lusts after Han, he knows that they are walking two separate paths. Han doesn't fully understand Luke's lifestyle choice but still wishes that "The Force" be with Luke. Han clearly doesn't know what "The Force" is about. Also, he is openly derisive of "old Ben" but considers Luke to be like a younger brother, thus weaving much the same fantasy that Luke has employed to render Princess Leia "safe." Frustrated, Luke throws himself into the macho trappings of military life, something Han is reluctant to do. Luke quickly establishes himself as one of the most enthusiastic pilots by reminiscing about childhood exploits of killing "womp rats in Beggars Canyon." Obviously, Beggars Canyon is, again, vaginal imagery. However, the rats betray Luke's deep seated fear that vaginas have cooties. Although none of the pilots look forward to launching their torpedoes against the exhaust port or the "chute" of the Death Star, Luke can't wait to send his torpedo up the chute.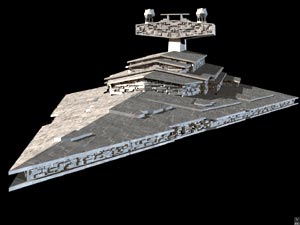 * Luke's sole female attraction is Leia. Unable to consummate a relationship with her, instead of admitting he's gay, Luke spins a fantasy that she's his sister, thereby absolving him of the need to confront his sexuality. Vader is Luke's unrealized sexuality personified. Obviously, Vader's helmet is styled after the head of a penis. Luke is constantly told Vader (homosexuality) is evil, yet in the back of his mind he can't help but realize there is some good in homosexuality. With Luke's first encounter with homosexuality (Vader), he discovers homosexuality "runs in the family, it is his destiny." It turns out that Vader also "knew" old Ben when he was a sailor, too. Luke's right hand (his masturbation hand) is lopped off. His "safe" method of sexual release has been cut off. Vader (homosexuality) seems to have Luke cornered and intones, "Join me!" Luke now must make a choice. At this point, he cannot accept his sexuality and plunges headlong into an air shaft (the chasm is vaginal symbolism, again). After Luke's first "encounter" with homosexuality, he is drawn to repeat the experience. Luke's vision in the tree (another phallic symbol) is a symbolic castration when he lops off the head of Vader (the tip of a penis). His final confrontation and acceptance of his sexuality naturally takes place at the point of a phallic symbol (the Emperor's tower). And then there's the Ewoks and Jar-Jar Binks, we aren't going to get into that.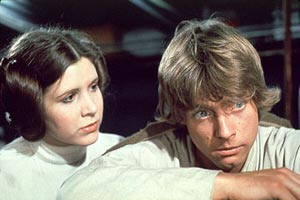 Karl Mamer copyright 1996