Eyes Wide Shut (1999)
Directed by Stanely Kubrick
Waiting for "Eyes Wide Shut" to come out I was like Keanu Reeves in "The Matrix", climbing walls, all jacked up. This is what I lived for. This is what gave my life meaning. A new Kubrick. Twelve years had gone by since his last one. He had to have something up his sleeve, and besides, he died doing it.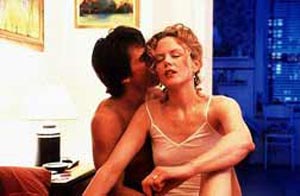 I went into "Eyes Wide Shut" expecting a masterpiece. A Kubrick film tends to bring about that kind of expectation. My attention was riveted on every frame. I kept thinking that Stanley Kubrick is a genius and I am a schmuck, therefore he knows what he's doing; I'm witnessing a masterpiece whether I know it or not.
I left the theater trying to figure out if I liked "EWS", feeling pretty much the same way after seeing "The Shining" and "Full Metal Jacket". A Kubrick film will do that to you. No simple thumbs-up, thumbs-down. You don't leave a Kubrick film feeling all pumped up, excited about witnessing something special. It takes days, months, years, and maybe reincarnation, as well as further viewings, to really appreciate the work. So can you honestly and fairly describe your reaction to a Kubrick film after walking out of the theater?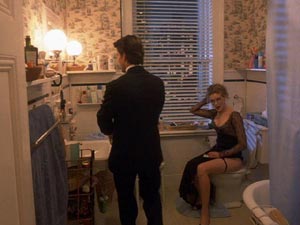 I liked it for a few days. I could care less about it now, and find that "The Blair Witch Project" dominates all film conversation, which doesn't mean it's a classic either. How would Kubrick react knowing those two "BWP" guys were on the cover of "Time" and "Newsweek", while his film has disappeared, like, well, the three characters from "BWP".
To start with, "EWS" was so grainy in spots that it called attention to itself more than it needed to. I assume the excessive grain was supposed to symbolize the relationship between Cruise and Kidman, the fine line between what we think we know about our partner and what lies underneath.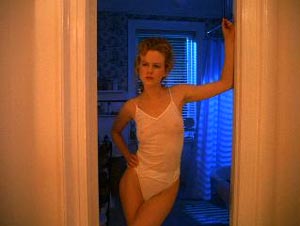 Nicole Kidman tells husband Tom Cruise about a fantasy she once had of giving up everything, husband and child, to have one night with a hot looking naval officer. Cruise freaks out and finds himself on a sexual journey through New York City (on London soundstages) that is in part spiteful for his wife's confession, and an exploration of his own sexual desires.
The physical set-up was classic Kubrick. A lavish party, bathed in a golden light, glittering with Christmas ornaments. The art direction and gliding camera reveal a seemingly secure and safe world, similar to "The Shining", with its straightforward tour of the spacious hotel. But this is Kubrick's world, and we sense an intangible menace waiting, something that will subvert the world of his characters and their rigid beliefs. In "The Shining", it was the possession of Nicholson's soul by the hotel's spirits, and in "EWS", those demons will turn out to be our sexual fantasies and fears.
At the party, some slick rich guy wants to bang Nicole Kidman in an upstairs room full of sculptures. Maybe the giant dildo from "A Clockwork Orange" was displayed up there. The dialogue he spews is unoriginal and she wards him off with her wedding ring, wielding it like a kind of crucifix, but you know he has stirred up something inside her. This guy reminded me of the former caretaker in "The Shining", who confronted Nicholson in the bathroom, symbolizing the darker side of marriage and normalcy.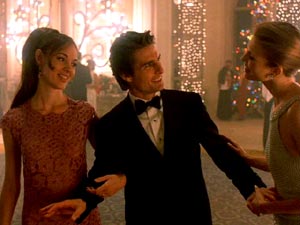 While this is going on, Tom Cruise, who plays a doctor, is flirting with a couple of models, walking arm in arm in slow motion, all "Top Gun" cocky. We can assume we know what his fantasy is, which is the fantasy of just about every guy that I know. But why was Cruise behaving like a smiling stud? So that his wife's confession would have more of an impact on his ego? I thought it would be more effective if Cruise was involved in a serious flirtation at the party, perhaps with the daughter of a colleague, in which he unexpectedly begins to question his own faithfulness, wondering what it would be like to have a relationship with someone new. Then, when Kidman springs that fantasy on him, the sexual journey he embarks on would make more sense in terms of not only salvaging his bruised ego, but perhaps offering him something to fill the emotional and sexual void in his life. James Spader would've been perfect as someone in a Kubrickian universe struggling for control of his sexually restless soul. Or a young Jeremy Irons. But Cruise showed no depth and was smirking too much, like he was in on some private joke.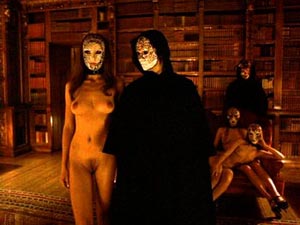 The now famous orgy sequence was eerie and beautifully shot. But it wasn't groundbreaking or original in any way. There was a better depiction of sex and fear and being led into another world in William Friedkin's "Cruising". "EWS" does have its moments, but it's probably Kubrick's most hopeful film. And that's where it loses its edge. It lacked a good cynical ending.
Some friends of mine thought it ridiculous that the Cruise character would freak out after hearing about his wife's sexual fantasy involving another guy. They thought it almost comical, believing that we all have fantasies, which are just that. I could relate, though, being the jealous, insecure paranoiac that I am. -- Rating: $4.00 (A second viewing could raise, or lower, the price)
Peter DeMarco -- copyright 1999