Eve's Bayou (1997)
Directed by Kasi Lemmons
I wanted to love "Eve's Bayou". I was looking forward to it. I was in the mood for a small, character-driven film. A story about a ten-year old girl's growing awareness of her parent's feet of clay is compelling. The acting, especially Samuel L. Jackson's portrayal of a small town pill pusher who literally charms the pants off his patients is tremendous. The problem is the direction. Many great moments are undermined by the details being slightly off.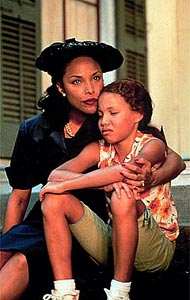 Like when Lynn Whitfield (great as the mom battling to keep her family intact) is grieving and her three children are draped, not around, but on her. The moment is covered in a medium shot. What is a tender, intimate moment between a mother and her children is made distant and mannered by a too objective camera angle. It may not sound like such a big deal but it was an important moment in the film and the smaller moments don't fare any better.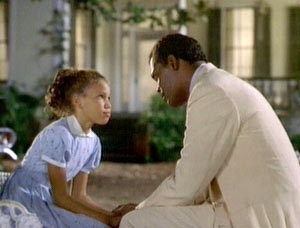 In the opening scene, we are introduced to the characters at a party and EVERYONE is dancing. In another story this detail might be fine but here it comes off as theatrical. I'm guessing that the director, Kasi Lemmons, didn't have a clear idea of what to do with so many extras so simply instructed everyone to dance. It solved an immediate production problem but it looked awkward and a little like a scene from a musical or music video instead of a slice of life from a little southern town. This is the kind of small movie that needs all the details to be just right in order for it to work.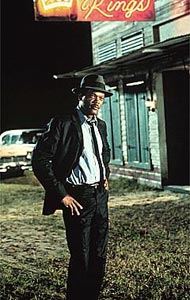 Part of my problem with "Eve's Bayou" is that I was really hoping for a gem and was disappointed when I discovered a pretty piece of glass instead. I was hoping for something on the order of "Ruby in Paradise" or "Flirting" but got something more along the lines of a "Rambling Rose". Don't get me wrong, "Rambling Rose" is a good movie but it's short of being a great movie.
Hopefully, Kasi Lemmons doesn't let the critical success of "Eve's Bayou" dupe her into believing that she's re-invented the wheel. If that happens, she'll be following in the footsteps of Ed Burns, Kevin Smith and Spike Lee who have all entrenched themselves in amateurish film techniques having been convinced by the media that their shit don't stink... well, it does. Hopefully, this talented director hones her skills and follows in the career path of Jim Jarmusch, Steven Soderbergh or Victor Nunez -- all of whom have developed and grown after the initial hype. -- Rating: $6.00
Tom Graney -- copyright 1997 Hollywood Outsider