Welcome to "Dirty Dan's Korner". "Dirty Dan" is a connoisseur (connoi-sewer?) of straight-to-video softcore, "pink" movies. If you are easily skeeved-out, please, SKIP HIS REVIEWS! -- Otherwise, enjoy "Dirty Dan's" evaluation of movies that are the male equivalent of women's romance novels. In other words, the sex without the romance. It ain't pretty. Of course, all of "Dirty Dan's" opinions are his own. Ick...
Play-mate of the Apes (2002)
Directed by John Bacchus
Starring Misty Mundae, Debbie Rochon, Anoushka, Sharon Engert, Darian Caine, Shelby Taylor,
It's been almost two years since my last "Dirty Dan" review, so imagine my surprise when I received an email from the "Hollywood Outsider" editor-in-douche bag asking if I was interested in reviewing Seduction Cinema's "Play-Mate of the Apes". I was informed that Dirty Dan (Me! Me! Me!) are the most visited pages on the "HO" website. Also, Graney went on to let me know that the most popular searches at "HO" were for the keywords "tits", "ass" and "pussy". He sounded mournful about this great news! What the hell was he expecting? This is the internet! The proven profit-making enterprises are eBay, Amazon and porn, but not in that order. I accepted the assignment with the following conditions. He had to promise to keep his filthy, stinkin' mitts off my reviews! Every word I write is sacred! No "editing"! Graney agreed (fucking liar).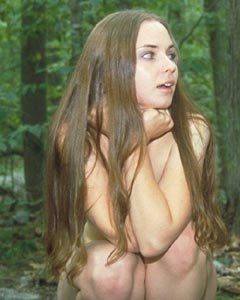 Well, enough with the walk down memory lane, onto the main event. Seduction Cinema has been churning out near porno-quality schlock at an alarming rate and their main asset is their favorite go-to girl Misty Mundae. If you aren't familiar with her work, think of Misty as the Meryl Streep of softcore lesbo movies. What makes her a standout performer is a killer face and body, plus a pinch of unrefined acting talent and charisma. She must be insane because she could have a real acting career. Instead she's naked running around the woods of New Jersey while being chased by some assholes in monkey masks. Hollywood's loss is Dirty Dan's gain.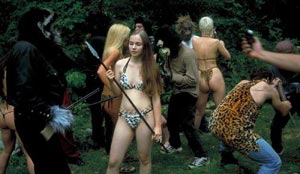 When I look at Misty Mundae, I'm riddled with guilt on account of the foul things I'd like to do with her. This seems kinda wrong since I'm old enough to be her dad, but the point is that I'm NOT her dad. At the risk of projecting my own neuroses onto the young woman, Misty is the kind of woman that puts the "Dirty" in Dan. I guess the point is that it's not my fault! Isn't it amazing how the cinema teaches us about our psyches and how to embrace our inner selves, even if our inner selves are totally repellent?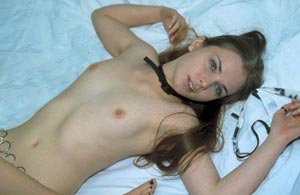 "Play-mate of the Apes" has the feel of a bunch of college stoners making their own pseudo-porn flick as a goof. Picture "Our Gang" after they've become young, twisted adults and deciding to put on their own lewd shows! They use the classic porn formula of taking a popular mainstream movie and twisting the plot and character names into a parody. These porno flicks have wacky titles like, "Edward Penishands", "Saving Ryan's Privates", "American Booty", "Indiana Joan: The Black Hole of Mammo", "Shane's World 32: Campus Invasion", etc., etc., etc... titles like these just go on forever. If you think that I know way too much about porn, you're right. The appetite for pornography in this country (and in my apartment) is truly numbing in its gigantic proportions. This obsession with dirtying-up mainstream product is the basis for a production company like Seduction Cinema and the objective for resident auteur, John Bacchus. It's probably more fun working on one of these films than it is to watch it.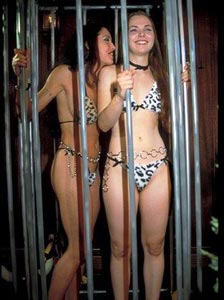 "'I believe that our heavenly father invented the monkey, because he was disappointed in man' -- Mark Twain," so begins "Play-mate of the Apes". Obviously, it's an ultra-stupid send up of the classic "Planet of the Apes" and takes bits of the plot from the original and dumps softcore sex into the mix. The best way to view this crap is to secure some government-grade dope, pop in the DVD and let the party begin (or so I've heard).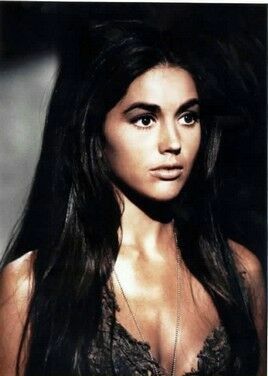 Misty plays the Charlton Heston role and Darian Caine plays the mute "Nova" (immortalized by mega-babe Linda Harrison). The other astronauts are played by a couple of stripper-type chicks (Sharon Engert and Anoushka). Actually, except for Misty and Darian, they all look like over-inflated, stripper chicks. The "Michael Jackson Award" goes to Sharon Engert. She's a blonde bimbo who went overboard with the plastic surgery. Sharon looks like one of those blowup sex dolls. Especially disturbing is her lips which look like they've been removed, stuffed with collagen, and glued loosely back on her face.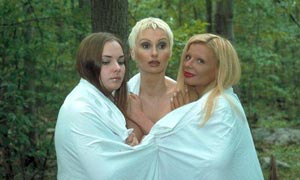 Reigning schlock-queen, Debbie Rochon, is "Dr. Cornholeous". She snags an easy paycheck by appearing in a monkey mask appliance, blonde wig, and science smock—no nudity! She should have taken full advantage of the anonymity afforded by the mask and insist on a name change in the credits. Shelby Taylor shows up later in the pic for some robotic-like lesbianism with Misty and the girls. All the sex is simulated, of course.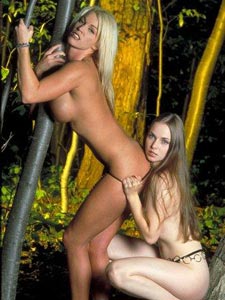 "Play-mate of the Apes" is better than a lot of softcore movies which is not much of an endorsement. This genre is just loaded with manure. The worst examples are the flicks that hardly have any nudity. Asia tends to have better, wackier and weirder "pink" flicks. Like always, if you are looking to "spank the monkey", download an episode of "Bang Bus" from the internet instead. If you are looking for sleaze without the unnerving sight of penetration (wusses), you might be better served picking a different Misty Mundae effort, perhaps "Satan's School for Lust" or "Erotic Survivor". 'Til next time (don't hold your breath). Rating: $4.63
Dirty Dan -- copyright 2003 Hollywood Outsider