Welcome to "Dirty Dan's Korner". "Dirty Dan" is a connoisseur (connoi-sewer?) of straight-to-video softcore, "pink" movies. If you are easily skeeved-out, please, SKIP HIS REVIEWS! -- Otherwise, enjoy "Dirty Dan's" evaluation of movies that are the male equivalent of women's romance novels. In other words, the sex without the romance. It ain't pretty. Of course, all of "Dirty Dan's" opinions are his own. Ick...
Girls Gone Wild (1998)
Starring drunk and high chicks
You've seen the goofy and annoying commercials on TV. You know the ones with the bad steel drum music and the gyrating girls. Well, we're not proud of this but we here at "HO" had to check it out. Surprisingly, it took almost three weeks of back order hell to finally get the tape. Apparently, this genre is a juggernaut. "Girls Gone Wild" (the first in a series of three and counting!) is a rat-a-tat-tat of tits, ass and sometimes pussy – best viewed at "HO" headquarters during the American League Championship Series with staffers and young, (at least 18 years old) big breasted, impressionable female interns at your side. "Show your tits", we cried all night. And we cried and we cried, but those interns just wouldn't give (I live in a rich fantasy world).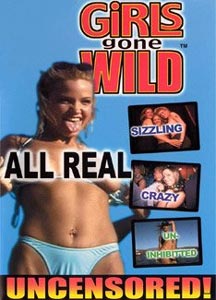 The baring of breast at Mardi Gras or Spring Break is as American as apple pie and baseball. Only a country as repressed as ours could be this weird and sick about sex. Who invented this scam? Obviously, it was a man, maybe, Thomas Jefferson. Speaking of weird and sick, baseball is a perfect companion for viewing such tapes as "GGW". Believe it or not, the flashing of breasts (big, bigger and biggest) can become unsatisfying without some kind of payoff. It's like taking a bite of your favorite food and spitting it out without ever getting to chew. That's why Baseball works so well with "GGW". The commercial breaks between inning lasts three minutes. So, we'd get 3 minutes of tits, ass and pussy before getting back to the game and chewing. You see the game was the "chew". Anytime you get to see the Yankees beat up on the pathetic Redsox (actually, it was more of a match than the World Series) in a big game, it's a "chew". You get it? Chewing is fun and it's no fun to be teased and not satisfied... Christ, I'm such a mess...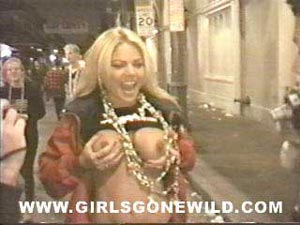 "GGW" runs for 45 min. and is broken down into two parts, Mardi Gras and Spring Break. Mardi Gras was by far the better of the two. It had more average women (as opposed to strippers) who bared all. Under normal circumstances you would receive the dirtiest of looks (if not more) if you were to ask a young woman on the street to show you hers for twenty bucks. But change this scenario to fifty cent plastic beads, a ton of alcohol under the guise of some ritual called Mardi Gras, and she can't get her pants off fast enough. Who knew? I'm not even going to try to pretend to know why this works. I've heard that the bigger the crowd, the lower the IQ. What we witness on this tape are some pretty big crowds.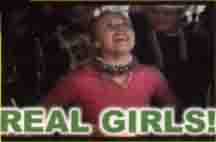 FYI, wear sunglasses because every time tits are exposed a nuclear explosion of flashbulbs go off. Sometimes, the guys surrounding the women are more interesting to watch (in an anthropological sort of way) than the babes in their birthday suits. Guys are animals to say the least. When a woman pulls up her T-shirt, three things go more wild than the women. First an explosion of camera flashes go off, then the cheering of the big, hairy apes, then (inevitably) one of the monkeys gets an idea and reaches in from who knows where, for a grab and a squeeze. After this mayhem, the unfortunate lady is rewarded with cruddy plastic beads. Yahoo!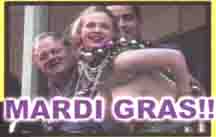 The Spring Break portion was disappointing. All tits, ass, pussy and lesbian kissing had a decided lack of spontaneity. Plus, the "girls" looked like seasoned pros. I haven't seen so many breast implants and "pole dancing" since I checked out the strip clubs on Bourbon Street. Still, looking at breasts just doesn't get old. I don't know why but every new babe who pops the hood gets my immediate attention. This is a little bit like using a shinny bit of metal to catch a fish. The fish must be thinking, "I know it's not sustenance but I can't help it! It's just so damn compelling!" This compulsion is similar to how some women feel about shopping and buying shoes.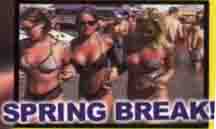 If you're looking for a tape to "rub one out" then "Girls Gone Wild" will disappoint. You're favorite porno tape is much more suited to that purpose. However, if you want to spice up your favorite sporting event then this is your tape. Every time a lame commercial breaks the action go to the remote and watch three minutes of debauchery. "GGW" is best viewed in three minute segments anyway. Don't forget to invite all your friends to add to the atmosphere and also have them kick in some cash to defray the $28.74 (with shipping) cost of the tape (ouch!). Better yet, try to find someone who already owns the tape and invite him over. -- Rating: $3.00
Dirty Dan -- copyright 1998 Hollywood Outsider