Contact (1998)
Directed by Robert Zemeckis
If you haven't seen "Contact" yet, but plan to soon, you might want to skip this give-it-all-away analysis of Jodie Foster's latest stink-bomb. Maybe not, because if you don't know the ending by 15 minutes into "Contact" then you don't watch movies much and shouldn't start by watching this one. You have been duly warned.
When Mark Twain heard about the invention of the telephone, he was not impressed. Supposedly, his response was that the newfangled gadget would allow someone in Maine to say absolutely nothing to someone in Texas. Anyway, one of my favorite movies growing up was "Close Encounters of the Third Kind". I'll never forget the desire to walk into the alien's ship, just like Richard Dreyfus, and enter a world completely unlike anything I'd known before, to leave this world and explore a brand new one. Part of Spielberg's slight of hand in evoking this almost religious emotion was by not showing the inside of the spaceship, just a glowing light. To have gone inside would have taken away the mystery and made it ordinary. The magic would've vanished. One of the central problems of "Contact" is that everything is explored in forensic detail. It's a fatal flaw when the theme of the movie is how noble it is to have an unshakable belief in something that can not be proved, whether it's God or aliens.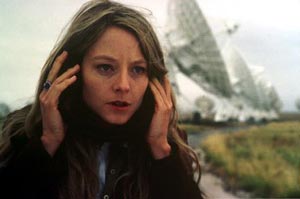 Jodie Foster plays Eleanor Arroway, an obsessive, joyless and overly-serious SETI scientist at odds with her superior, David (Tom Skerrit) over the direction of the program. When he takes away her government cheese, she turns to the captains of industry but her work is considered to be a waste of money. The only one who rides to her rescue is a secretive-nut gazillionaire, S.R. Hadden (John Hurt). With his shorn head, leisure wear and creepy New Age, drugged demeanor, Hadden is part Howard Hughes and part Stargate cult leader Marshall Applegate. Eleanor accepts his support and eventually discovers an alien transmission and decodes its message. It turns out to be instructions on how to build a machine (not a naked Natasha Henstridge this time) that presumably would make intergalactic travel possible. When she alerts the world to her discovery, David is quick to steal her thunder and he is chosen as Earth's first visitor to an alien world.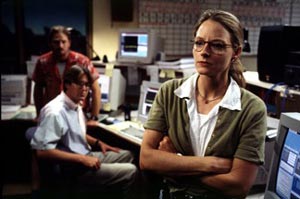 What does David have to do with the movie's theme of the power of faith? Absolutely nothing. He's used as an obstacle and a cheap way of creating "suspense", even though we all know that Eleanor will wind up going on the journey and not her asshole boss. This boring formulaic device just muddies the issues. The same goes for Eleanor's hokey backstory relationship with her father. Through seemingly endless flashbacks we learn of her feelings of guilt associated with her dad's premature death of a heart attack. This event is linked to her inability to connect with other people and her fear of intimacy. The point is slammed home with a sledge hammer involving a love story subplot with Palmer Joss (Matthew McConaughey). Palmer is a born-again zealot who's super-concerned by the implications of an alien civilization. He seems to think our first question to the aliens should be, "What do they think of Jesus Christ?" You know what? Christ himself would shoot milk out of his nose if you caught him at the right moment with that concept. It would be more sane to ask that question of a sponge at the bottom of the deepest part of the ocean. At least it's from the same planet as a Nazarean who died 2000 years ago.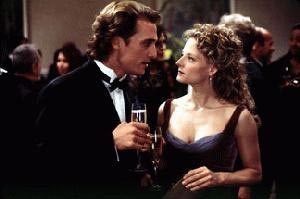 Eleanor and Palmer have a one nighter that causes relationship phobe Eleanor to flee. Actually, the interactions of the bloodless couple is as gripping as watching paint dry. The love-interest aspect of the plot is just one more piece of junk to distract from what the movie is supposed to be about. When Eleanor leaves Palmer to go out for the proverbial "pack of ciggies", it's not because of her devotion to her beliefs but from fear of intimacy. She is just claustrophobic about involvement in the usual sort of way.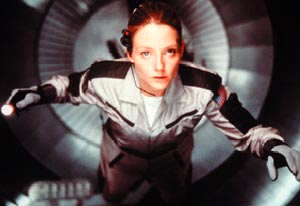 The plot comes apart at the seams when a religious terrorist blows up the space machine and David. In the setup we learned that the cost of building this machine was equivalent to the entire GNP of the United States, yet (unbelievably), a second one was built in Japan as a backup! What fuckin' luck! With David safely out of the way taking his dirt nap, the way is clear for Eleanor to go on her journey. She is "launched" but her spaceship merely lands after falling through some pretty lights. From the viewpoint of the people watching the event, nothing really happened, but from Eleanor's point-of-view, she has traveled across the galaxy and crashed on an alien world. There she has a rather obtuse and cryptic conversation with what appeares to be her father on a Club Med-like beach. Afterwards, she is sent back home and blacks out.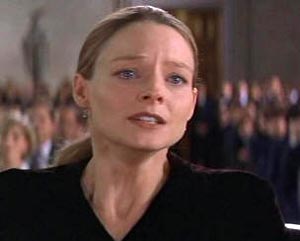 When she revives, she is confronted by a pack of disappointed government types. They're convinced that her tale of a journey is bogus, after all, they all saw that the ship had gone nowhere. Later, Eleanor emotionally pleads her case before the Congress and the world, admitting that she has no proof of her story but knows that what she experienced was real, "We are not alone!" Eleanor is no longer a scientist but an evangelist preaching that there are little green men out there.
"Contact" could have been so much better had the filmmakers believed in their own story -- THE POWER OF FAITH! The movie should have depended on the audience's ability to imagine something they can't possibly experience. To take a leap of faith because of the main character's honesty, integrity and passion. After all, that formula has worked in a big way for religions all over the world and for thousands of years! By going with Eleanor on her trip to work through her feelings of guilt and fear of intimacy, we are left with nothing. Anyway, her meeting and talk with the aliens puts me in mind of what Mark Twain once said about the invention of the telephone -- Rating:$2.02
Tom Graney -- copyright 1998 Hollywood Outsider