Con Air (1997)
Directed by Luis Losa
The hardest working man in Hollywood, Nicholas Cage, is wearing out his welcome by monotoning his way through this formula actioner. The premise is perplexing. Cage is a caring but dangerous vet who is sent to jail for defending his preggers wife from three hoods in a bar-brawl. After serving his sentence, he is going to be freed and meet up with his wife and now adolescent daughter -- but not until he is first shackled to the most dangerous criminals/psychopaths in the country (?) as they are flown to a new maximum security facility. Why the authorities don't just leave Nick where he is for one more day, then release him from the old prison (and save the taxpayers money) is never explained. And it really needs explaining because it makes zero sense, just let him buy his own bus ticket back to where every the hell he came from. Then again, his crime and punishment made no sense, so why should his release.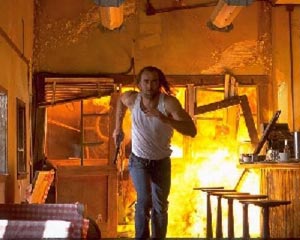 Once again we get to enjoy seeing prisoners escape from the "escape-proof", in this case, a custom built plane. This particular movie clich has become a real irritant in 1997. It is rarely done well (Hannibal Lechter's escape) and the list of the bad escapes is endless. Just in this month's issue of "HO" there are four guilty parties; "The 5th Element", "Species", "Face/Off" and "Metro".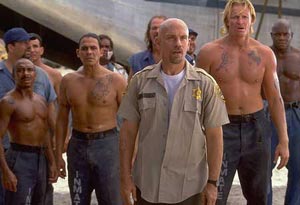 John Cusack is a sharp-as-a-butterknife U.S. Marshal running a basically Keystone Cops operation to transport the prisoners (strike one). Colm Meaney is a DEA meanie who, predictably, is cross purposes with Cusack (strike two). The cons are the standard assortment of wack jobs; John Malkovich as a silent but deadly leader, Ving Rhames as Malkovich's black supremacist second banana and Steve Buscemi as yet another Hannibal the Cannibal-like serial killer (strike three!). Then there are a half dozen or so other prisoners and a group of guards, all of whom have subplots, none of which amounts to a hill of beans. A good example of a pointless scene is when Steve Buscemi has a tea party with a little girl. She appears out of nowhere, story-wise, and ends up nowhere, too. The only point of this weird encounter seems to be that they bond and trade dolls. That Buscemi is one sick bastard, right?
Spoiler Ahead!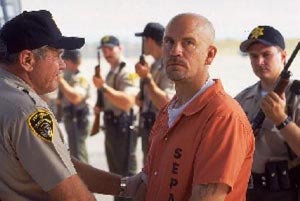 At the end, Malkovich is killed but like all psychos nowadays, he's got more lives than a cat. He survives gunshot wounds, car crashes and electrocution in rapid succession. The only thing that finally does the trick is a head-crushing piledriver. The audience I saw this flick with burst out laughing during the coup de grace. Does insanity give a person superhuman strength or imperviousness to pain? Guess who walks away with his wife and kid after wasting the bad-asses? -- Rating: $0.50
Tom Graney -- copyright 1997 Hollywood Outsider