Can't Hardly Wait (1998)
Directed by Deborah Kaplan
"Can't Hardly Wait" is yet another teenybopper flick celebrating the awkwardness and pain of youth, and in particular, high school. It's an ensemble piece (a la "Fast Times at Ridgemont High") but centers on a shy but nice guy, Preston (Ethan Embry), who has been carrying a torch for torrid wench Amanda (Jennifer Love Hewitt -- that sickeningly sweet cutie-pie from "Party of Five" with the big cans) for all four years of high school, but has never had the courage to approach her.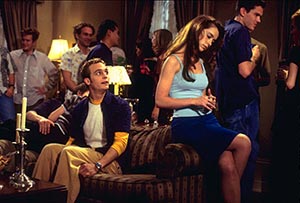 The story takes place during the course of one crazy night at a blowout graduation party. The setup is that Amanda has just been dumped by her dumb, jock, asshole boyfriend and everyone wants to see how little Mandy is holding up. All the usual cliched characters are represented. There's the goofy foreign exchange student (taught to say dirty bits of English like, "Do you want to touch my penis?"), a nerdy brainiac who's transformed (by drinking a beer) into a cool rocker singing Guns and Roses' "Paradise City", bimbo cheerleader-types whose heads whistle whenever there's the slightest breeze, and a slew of other square pegs (fat kids, skinny kids, kids with bad hair, kids with bad clothes, kids with bad skin, kids with bad breath and don't forget the dumb, jock assholes).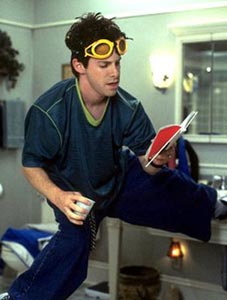 The only standout in this yawn-fest is a disaffected carrot-top played by Lauren Ambrose. Ambrose manages to bring some dimension to her part as Denise, a self-conscious young woman isolated by her refusal to play the social games of the various cliques. For this reason, Denise is thought to be a snob. She winds up locked in a bathroom with her old junior high school boyfriend, Kenny (Seth Green), who's now a "wigger". The two of them manage to break through the bullshit and make a connection.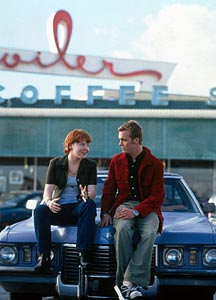 "Can't Hardly Wait" lacks a dramatic core to hold it all together. It's a series of marginal vignettes and the most important event of the story takes place just before the movie starts -- the breakup of Amanda and her jock. As an audience we sit through the aftermath, which is the amazement of Amanda's fellow students on how unthinkable this breakup is. When we do see Amanda and her ex together, it becomes a more relevant question to ask how these two kids with zero in common ever stayed together for four years in the first place. Maybe, that's the most real part of the story.
However, it is extremely hard to care. It's also hard to care about reticent Preston and his reluctance to take action and let his feelings be known to Amanda. His most decisive moment is to confront a stripper (Jenna Elfman) who has ruined his phone call to a radio program that has Barry Manilow as a guest -- whatever. "Can't Hardly Wait" wanted to be an updated "Fast Times at Ridgemont High" or "Sixteen Candles" but fell way short. The movie had some situations, just no real story -- NOT TO MENTION, NO NUDITY! A teen-flick without nudity? What the hell? Where's the ill-advised sex? -- Rating: $1.13
Tom Graney -- copyright 1998 Hollywood Outsider