Boys Don't Cry (1999)
Directed by Kimberly Peirce
Female film characters struggling with gender identity are usually less compelling than those played by men. For example, think "The Bird Cage", "Tootsie", "The Adventures of Priscilla Queen of the Desert", and "Mrs. Doubtfire". Need I say more? Okay, Perry Farrell, Dennis Rodman, and Boy George. Women playing characters befuddled with penis envy are just plain freak show fodder. Even on Sally Jesse Raphael, men have an innate sense of humor about themselves as soon as they don stockings and stilettos. But when Frankie's mom becomes Frankie's dad, the picture is a lot less amusing. Even New York City performance artist Jennifer Miller, and Sidney Silver, bass player for the Lunachicks couldn't be less humorous; or sightly. This is why, it's shocking for me to say, "Boy's Don't Cry" was a sincerely moving portrayal of female gender identity crisis.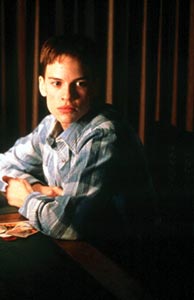 Hilary Swank brilliantly depicts Teena Brandon, the real-life Nebraska native that poses as a boy and swoons several of Falls City's female discontents. As Brandon Teena, Swank has cropped brown hair, she sports flannel shirts and an aviator jacket. She almost resembles a prepubescent Matt Damon with her full-lipped, toothy smile. Unable to continue the "charade" of being female, she takes all the necessary steps to begin her transformation to malehood. And despite the fact that Brandon casts off everything she's ever learned about how females are supposed to operate, Swank manages to convey the idea that the only thing Brandon is really changing lies on the surface of her skin. There is no doubt that Brandon Teena is a boy through and through.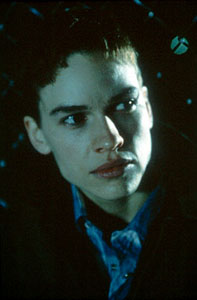 And you might think that someone with enough gumption to go against the grain in America's heartland -– not exactly the place to expect an open armed reception to anything just left of heterosexuality -- might also be smart enough to get the hell out while they still have a chance and perhaps go somewhere that a sex change is considered yesterday's news. New York City, perhaps. Not Brandon. After all, these were his people. So, essentially, Brandon's problems didn't start the day she was birthed with the plumbing on the inside. Rather, her problem started the day she decided to stay in the boondocks.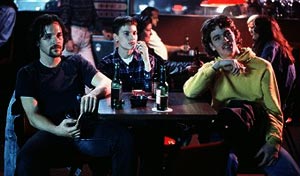 Whether the stereotypes are true or not is not for me to decide. But I'll tell you this much, John, played by Peter Sarsgaard, was the epitome of my nightmare image of middle America's white-trash poster boy. Along with Tom, played by Brendon Sexton III ("Welcome to the Dollhouse"), both take Brandon into their clique with little doubt that anything is amiss with the baby faced newcomer. They even go as far as calling him "little dude" since his mug bears not one whisker. But even lacking any obvious male features, such as facial hair and an Adam's apple, Brandon appears no less a boy than, say, Leonardo DiCaprio. So for several weeks Brandon drinks, smokes, surfs a moving flatbed truck, and even fawns over and courts girls -- just like one of the guys. All is going well in his life for the first time. He even falls in love. Until his past comes back to haunt him.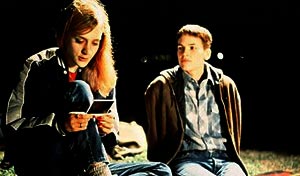 A traffic ticket brings Brandon to the courthouse to pay a fine and in the process the clerk attending him comes upon a warrant for his arrest for previous harmless criminal violations committed in his hometown. Making the local papers the following day in a column listing the town's crimes and arrests, Candace, played by Alicia Goranson (Roseanne), notices Teena's name. In confidence, she reveals to John her suspicions that Brandon isn't exactly who he says he is. But not only is John disingenuous, but he's a psychopath to boot.
Here the film takes a violent turn for the worse. Mayhem erupts when Brandon's friends go digging for the truth. Inside his duffel bag they come upon some disconcerting items, such as a prosthetic penis – which is successfully used in one scene -- and literature written for pre-ops.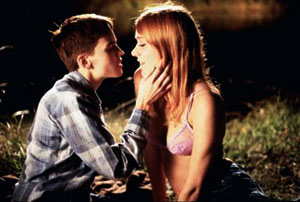 Despite its, at times, shocking content, its homoerotic scenes, and vicious conclusion, "Boys Don't Cry" is one of the most affecting movies of the year. It's an atypically non-freakish, and non-Hollywood approach to a story layered in various forms of social and sexual deviance. Hilary Swank showed an extraordinary amount of acceptance with her transformation from a 90210 babe, to a handsome, contemplative fellow living in America's wasteland. And at the same time she exposed Brandon's real-life tragedy. And hopefully it's one that won't soon be forgotten. -- Rating: $9.00
Riki Markowitz -- copyright 1999