The Blair Witch Project (1999)
Directed by Daniel Myrick & Eduardo Sanchez
Fake-u-mentary about three dumb-ass film students who get lost in the Maryland woods while making a documentary on an equally fake witch from a fictitious town called Blair. It's "Living in Oblivion" meets "Deliverance" and shot like an episode of "Cops". If you're not a fan of "earthquake cam" then this film is guaranteed to give you a headache and should be avoided at all costs. Luckily for me, I love the whole hand-held, on-the-fly style.
A highly conceptualized project, "Blair Witch" was shot, "written" and "directed" by the actors themselves. The two guys credited as the film's writers/directors, Daniel Myrick and Eduardo Sanchez, didn't write a word of dialogue or even a screenplay in the usual sense and were rarely on "set" for the filming. For that reason, a more accurate description for them would be producers and/or "the guys who came up with the concept". Not that this is such a bad thing to be. Many films could benefit with a breather from the auteur theory. Jan De Bont should consider this style of film making for his next movie. The results couldn't be any worse than "Speed 2" or "The Haunting".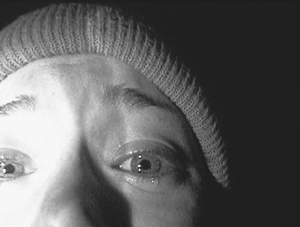 "The Blair Witch Project" is more like a performance art piece than a standard movie, since the actors really camped out in the Maryland woods and shot their growing discomfort, first person, over the course of eight days of hiking around and across the same creek again and again. The "directors" would drop off canisters daily with instructions on character motivation and a general outline of the next bit of action as well as doing their best to terrorize the thespians during the night. Since there wasn't a script, the actors (Heather Donahue, Michael Williams and Joshua Leonard) improvised their way through the story. Further blurring reality and fiction, the actors used their real names in the film. The results are, in general, interesting.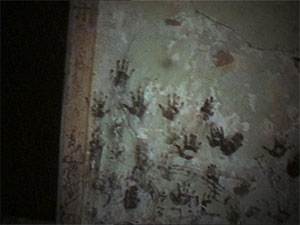 "The Blair Witch Project" effectively taps into two primal fears. Fear of the dark, where most bad things seem to happen, at least in horror films, and fear of the unknown, because nothing is scarier than the monsters we conjure up in our own heads. Much has been made of the scariness of this low-budget pic, and it is, but really it's more creepy than terrifying. To me, terror is perpetrated by ordinary human beings against one another (such as in "Schindler's List" or "The Killing Fields") and creepiness belongs to the alien and the supernatural. "Blair Witch" is an all out creep-fest. There were scenes where I felt goose flesh and chills... briefly.
What you might not have heard is how funny "Blair Witch" is, in a gallows humor kind of way. There are some classic moments of ineptness as the three blundering moviemakers begin losing their cohesion as a group. The bits about "the metric lens", "the topographical map", "Are you laughing at me?" and "I think this log looks familiar" are instant classic bonehead-isms. We've all experienced the feeling of being lost and the infighting that erupts between Heather, Michael and Josh is very funny because of its frantic familiarity. Even their slipping grip on reality from lack of sleep, food and warmth has its darkly comic moments. Next to "Ed Wood", "The Blair Witch Project" is the closest recreation of what low budget filmmaking is really like!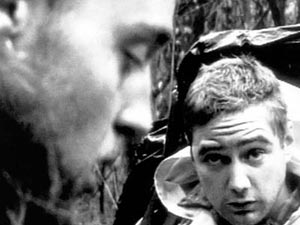 The biggest problem with "The Blair Witch Project" is its ending. It's probably the biggest "huh?" ending to a horror film since Kubrick's "The Shinning". Most of the audience I saw it with clearly didn't get it, and even if they did get it, didn't find it to be very satisfying. The crowd actually booed and hissed as the credits started to roll. I can't remember the last time I saw a movie get such a negative reaction at the end, including Coppola's "Bram Stoker's Dracula" where most of the audience began getting up and leaving well before the credits even began rolling.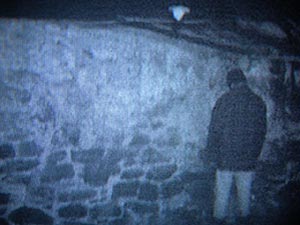 However, with "Blair Witch" I really think that the negative reaction at the end was a credit to how high the expectations were by that point. It's like reading a really good story and just as it's reaching a climax, "fini" is suddenly tacked on to make an ending. The crowd (myself included) was very much into the film until the end. Not many films manage to raise the bar of expectations these days but "The Blair Witch Project" did it. Since seeing the movie, I've heard that Myrick and Sanchez didn't know how they were going to end it until shortly before its filming. If they were waiting for inspiration, it didn't happen.
Few recent movies have generated as much debate as this film. Some people I've spoken with feel that "The Blair Witch Project" is going to be a wake up call to Hollywood. Supposedly, producers will suddenly realize, "Eureka! We don't have to spend $100 million dollars to make a movie!" but I don't think this will happen. Hollywood is about the star system. Anything that is successful outside of the star system is considered a freak. I think Hollywood will consider "The Blair Witch Project" a freak rather than a new and revolutionary way to make blockbusters. The idea that producers will suddenly fund a slew of $60,000 "concept" films without scripts or stars is pretty fucking remote.
This doesn't mean that "Blair Witch" will be without impact, just of a more expected kind. Expect "the directors" Daniel Myrick and Eduardo Sanchez to helm some multi-million dollar, teenage/MTV-generation targeted films starring flavors-of-the-moment with snazzy names like Katie Michelle Gellar or Casper Van Goch. Also, expect a "Blair Witch" prequel or sequel and a "Blair Witch" TV series which will look more like "The X-files" than a little black and white indie-film with no stars. Look for Heather Donahue, Michael Williams and Josh Leonard to land some choice back up roles in teenage/MTV-generation targeted films as the friends of the flavors-of-the-moment like Katie Michelle Gellar or Casper Van Goch.
Probably the biggest effect "Blair Witch" is going to have is on a whole new crop of suckers who are going to take out second mortgages on their homes or borrow heavily from mom and dad and start shooting their own "Blair Witch" inspired films. I might do it, too! Out of the thousands that will be financially stressed by some very expensive home movies, someone might achieve a movie that is really good. It could happen.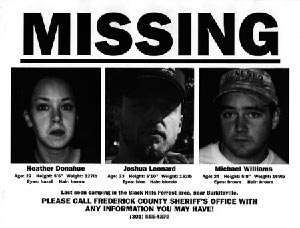 In a perfect world, the budget of a movie wouldn't be of any interest to the movie-going public. Who cares (except a movie investor) if a film cost $60,000 or $100 million? Neither amount of cash makes a movie good or bad. After all, it's not like the $100 million was dumped in a ditch and set on fire in the making of wanna be blockbusters. A lot of people got a piece of that money (mostly the stars). But this isn't a perfect world, is it? The indie tag has become just another way of promoting a film and has about as much meaning as calling a movie a studio film at a time that the studios are more like big distributors and film-libraries than dream factories. Much has been made of the paltry $60,000 spent on "The Blair Witch Project". Not much is said about the $350,000 spent on the re-do of its sound mix or the $15 million spent on its counter-programming promotion.
Does the knowledge that "The Blair Witch Project" costing more than $15 million before its release diminish its impact while you're sitting in the movie theater? How do you feel about the film now knowing that it pulled in more than $40 million in its first week of release or that it will probably gross more than a $100 million? It really shouldn't make you think or feel anything. It's a non-issue. It's a way of skirting and diverting attention away from real issues, like ticket prices. What are we getting for our $9.50 (New York prices)? What are we looking to get for our $9.50 (some oral might be a nice start)? How come when we watch a movie that cost $60 thousand to make, the ticket price is the same as a movie that cost $200 million ("Titanic")? A producer might respond, "that what the market will bear", or use my own logic against me, "what business is it of the viewer how much a movie cost to produce?"
I've worked on a few low-to-no-budget projects and the lack of cash did nothing to make any them any better. Just as dumping a ton of cash on a project doesn't guarantee good results... hello, "Ishtar"! The first step in good movie making is a good idea. Good ideas are without cost and priceless. Myrick and Sanchez came up with a good idea and were able to execute it. The depressing thing about filmmaking is that even good ideas are vulnerable to bad execution and bad luck.
Myrick and Sanchez should be credited for having the nerve of putting up $60,000 and then, essentially, walking away and trusting their actors to shoot the footage for "The Blair Witch Project". How many of us could place that much trust in others to come through with something usable? These guys either have nerves of steel or they are totally brain dead; in other words, good movie producers.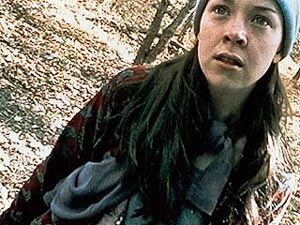 It's also interesting that the women I've talked to about "The Blair Witch Project" have all expressed a strong dislike for Heather Donahue; the driven and sometimes shrill "director" of the film-within-a-film. More than a couple expressed the opinion that Heather should have been the first to go and the nastier, the better. I'm not sure why this is but it seems interesting, nonetheless. Women are really tough on each other. I don't claim this in any kind of scientific way or anything, just an observation. Being a member of the "girls club" is a tough gig. They kill their own.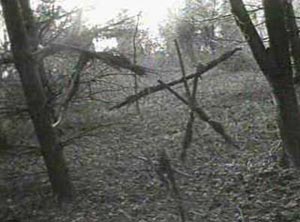 Personally, I had no problem with Donahue. I thought that all the characters came across as rather neutral in likeability and none of them displayed much in the way of smarts. Overall, the handheld camera work, poor focus, sungun lighting, immersion-styled acting, piles of rocks, talismans and bloody teeth lent to a real feeling of bleakness and dread. The complete lack of any cartoony CGI is what really put "The Blair Witch Project" over the top as one of the best horror films to come out in years. -- Rating: $8.50 (a dollar off for an unsatisfying end)
Tom Graney -- copyright 1999 Hollywood Outsider