High Anxiety (1977)
Directed by Mel Brooks
Well, I spun myself around the video store, closed my eyes and chose "At Random". The premise of this section in short is: I randomly/blindly select a film from the video store (not a new release) and review it... here goes: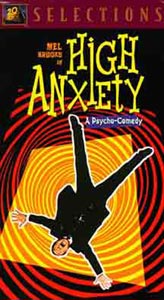 Mel employs his usual cast of characters. It's downright Star Studded: Madeline Kahn, Harvey Korman, Cloris Leachman, Dick Van Pattern and Ron Carey. But then even the casting got me thinking. Most of the cast were famous for being on TV shows, that were also "remembered" as classic, superior... timeless (ugh!). But have you recently seen an episode of "The Mary Tyler Moore Show" or "The Carol Burnett Show"? Zzzzzzz. And, "Eight is Enough" is right up there with "One Day at A Time". If you ask me, Grant Goodeve really held that show together!
The plot is just awful. Brooks plays a psychiatrist suffering from a disorder known as "High Anxiety". It is a weak premise to link together horribly executed vignettes loosely based on Hitchcock movies.
The never-ending "heavy suitcase" gag with Ron Carey made me want to reach for the fast forward button. Charlie Callis (I think it was him), as a man who thinks he's a dog is totally ridiculous (in a bad way). Dick Van Patten meeting his demise by way of a loud car radio didn't make any sense. What film was that a spoof of? If anyone knows, please fill me in. And finally, the S&M gag between Cloris Leachman and Harvey Korman was just an embarrassment. Maybe, when this film was made, it was daring, outrageous... but by today's standards it is just plain silly. And not in a good way. The film is unwatchable. I did not laugh once the whole time it was on!
A big disappointment was the scene spoofing "The Birds". The video box makes some claim that the same person who worked on "The Birds", worked on this scene. Well let me tell you, the build-up was a big let down. Even his "Psycho" shower scene sucked. It made me afraid to ever watch "Blazing Saddles" or "Young Frankenstein" again... in fear they too didn't stand the test of time. May the Schwartz be with you... ($0.91 - allow for an inflation adjustment)