American Beauty (1999)
Directed by Sam Mendes
You have to be leery of a flick that generates such immediate talk of Oscar nominations, plus the trailer for "American Beauty" was pretty bad implying something more like "Poison Ivy" than "Sunset Blvd.". The title isn't much better and refers to the roses tended to by an uber-neurotic Carolyn (Annette Bening) in her perfect suburban flowerbed, or maybe it's a certain Lolita occupying her husband's, Lester's (Kevin Spacey), wet dreams (or perhaps something much better). It just seems like a movie that is this good shouldn't have a title this blah.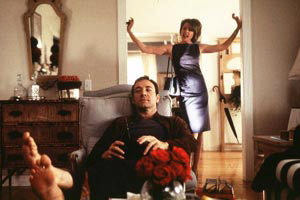 "American Beauty" could easily have turned into the type of movie where there's nothing more wrong with its weird, self-absorbed characters that a really good natural disaster couldn't fix. To a degree this is true with "American Beauty" but its characters evolve beyond being just schmucks, especially Lester. Any film featuring a forty something lusting after his fifteen year-old daughter's buddy (and fellow cheerleader) has a lot of potential for being bad. Instead of pathetic, first time director Sam Mendes manages a good dose of pathos and puts together a funny and entertaining movie involving complicated characters with real emotions. All the characters are caught on the sifting sands of change as they begin redefining themselves and their relationships to each other.
Kevin Spacey scores another hit (the guy knows how to pick 'em) as a totally emasculated husband to Carolyn and completely clueless dad to his daughter Jane (Thora Birch). His mid-life meltdown and subsequent crush on one of his teenage daughter's friends, Angela (Mena Suvari), fuels his transformation from an unhappy, ad writing, jerk-off artist into a somewhat happy, burger flipping, fitness crazy, pot smoking, jerk-off artist. However, Lester's sudden acquisition of a set of brass balls doesn't go over well with those around him, especially with his Stepford-wife Carolyn. Speaking of Carolyn, Bening's portrayal of such a desperate for perfection lunatic is, well, perfect. It's surprising that her face doesn't crack like a mask from all the forced smiling. Clearly, Lester's redefinition of himself, both mentally and physically, is loosening what little glue is holding this family together.
Caught in the middle of her parents' disintegrating marriage, Jane is an enraged only child with no one to trust. She is so repressed and confused that she's actually contemplating a boob job even though she has plenty in the chest department. Her ambivalence towards sex is underscored by her friendship with fellow cheerleader Angela. On the surface, the two young women couldn't be much different, with coquettish Angela delighting in shocking her school chum with stories of her slutty sexual exploits/fantasies.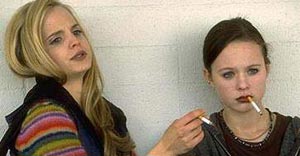 Their friendship comes under growing strain from two sources. First, Jane's dad, who you can practically hear salivate anytime he lays his eyes on Angela. Naturally, this creeps out Jane to the obvious delight of Angela. Second, is the arrival of a new family next door, in particular, Ricky (Wes Bentley). Ricky is a strange high school lad with a video camera and disarming honesty. His preference for moody Jane over dirty all-American girl Angela puts additional strain on their friendship. Ricky spends his time video taping everything (and I mean everything) when not answering his beeper to sell some weed or to go smoke some himself. His behavior seems considerably less strange in comparison to his parents; an ex-marine colonel (Chris Cooper) who likes to collect Nazi dinner plates and his catatonic wife (Allison Janney). As it turns out, Jane and Angela are alike once you scratch the surface, only they express their angst over growing up in different ways.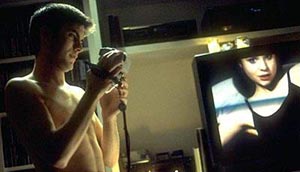 I'm not giving away anything in saying that Spacey winds up dead since this is established at the very beginning of the film in a monologue reminiscent of "Sunset Blvd.", but "American Beauty" isn't a murder mystery. This isn't about what happens but how it happens. Spacey's murder is secondary to a bittersweet revelation. It's this other layer about going beyond the surface of existence, to dive underneath an apparently sterile world of forced politeness to find beauty and happiness that makes this movie worthwhile. Beauty and meaning are all around, even in suburbia, you just need to "look closer" (the film's tag line). Also, maturing isn't just counting off birthdays. Many people spend their whole lives as nothing more than big, spoiled children. We get to see a man in his forties grow up. That's a rare event in Hollywood films now-a-days. -- Rating: $9.50
Tom Graney -- copyright 1999 Hollywood Outsider