The 5th Element (1997)
Directed by Luc Besson
Well, what can one say but Luc Besson? Hmm... a lot happens... the story moves along... what was "The 5th Element" trying to be? A futuristic comedy or sci-fi drama? As a comedy it's not very funny (maybe it's a cultural thing, like the way Jerry Lewis is hysterical to the French) and as a drama, not much of that is going on either. No tension. Zilch. It's basically a Byzantine mess done with style.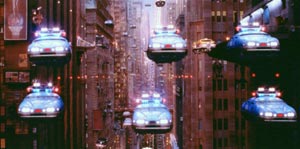 The 5th element that the title refers to is a vulnerable-looking Milla Jovovich who saunters around wearing Ace bandages. The story is that every 5000 years or so, an enormous fireball containing absolute evil threatens to engulf the universe and extinguish all life. To counter this, some good aliens need to get four magic stones (representing the ancients four elements: earth, wind, fire and water) and a perfect being known as the 5th element, to an Egyptian temple complex.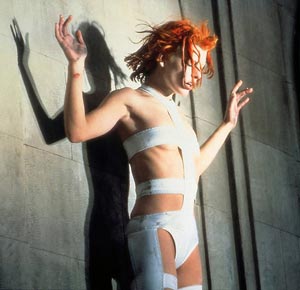 Apparently, the Earth's government of the future doesn't know what to make of the growing fireball, and rather than explain what's going on, the good aliens treat the saving of the universe as a covert operation. Some form-shifting bad aliens align themselves with a gimpy entrepreneur (the French hate capitalists) played by Gary Oldman, to thwart the good guys believing that absolute evil will reward them somehow. This believe this even though they'll all be dead. Maybe, the thinking here is that, "it's just so crazy, it might work."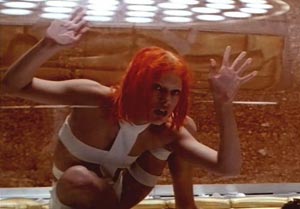 Jovovich is sequenced and grown in an inescapable lab, just like Natasha Henstridge in the "Species" films. After she escapes, Javovich crashes through the roof of Bruce Willis' flying cab. Squinty-eyed, pursed-lipped and an ex-Green Beret of the future, Willis immediately falls in love with her as she gesticulates and speaks some sort of proto-language that sounds like Italian. She can't speak English but she can read a "please help" sticker in his cab (ET phone home!). Willis embarks on a mission to get her and the magic rocks to Egypt with the help of a prissy space-monk played by Ian Holm. Like Daryl Hannah in "Splash" (anyone remember "Splash"), Jovovich gets an accelerated English and history lesson from watching TV. Earth history makes her sad but Willis' love conquerors all.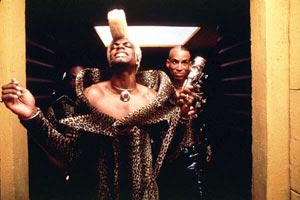 The movie gets totally derailed with the appearance of a RuPaul-like transvestite/talkshow host of the future (Chris Tucker). More than ten minutes are spent with this twice-as-annoying-as-RuPaul bore. Gaultier supplied the trashy rags and Ace bandages which is the most interesting thing about this movie. "The 5th Element" isn't dull because of all the eye-candy but it ain't great either. It needs more elements. -- Rating: $3.50
Tom Graney -- copyright 1997 Hollywood Outsider