200 Cigarettes (1999)
Directed by Risa Bramon Garcia
Imagine yourself in a universe where no one knows your name or recognizes your clothes or your culture. Sort of like a Brooklyn neighborhood movie theater showing "200 Cigarettes" on an early Friday night. I mean, it is said that "only the dead know Brooklyn," and apparently this crowd not only didn't know Brooklyn, they didn't know from New York in the 1980's either.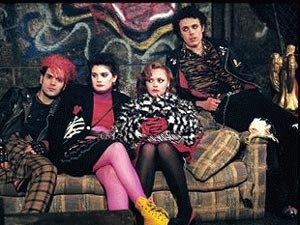 The story is, loosely, a New Year's Eve in the 1980's and everybody's got to score a love partner by midnight, or else go home alone (Hmm... not really that different than an average Saturday night in the 90's). This film, unlike so many other current films, succeeds in capturing the look and feel of the Eighties: forget about "The Wedding Singer": gloves without fingers do not the Eighties make. Nor does having some old lady sing hip-hop. As I recall it, hip-hop, or rap, was so new, we didn't even have a category for it. All we had then was this dance troupe called "the Lockers" with that guy Re-run or something like that, but I digress.
There were so many "in" references to get in this movie that I found myself laughing out loud, wanting the audience to be there with me. Unfortunately, I was by myself and the theater was nearly empty. For example, early in the film, Elvis Costello walks between the two young protagonists (one of which is the ever-young Christina Ricci, looking like perhaps as much of a greaser as she would've been had she not become the star she is. Is she from Long Eye-land or what?). I said his name out loud, "Hey, it's Elvis!", but I think people around me thought I was seeing a vision or something.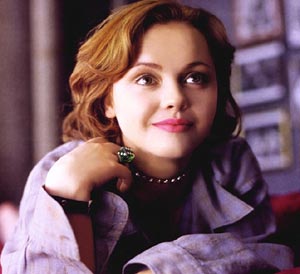 It's an ensemble film, with no one real star, and they all deserve mention: Goldie Hawn's daughter, who from now on shall be known as "Goldie-Hawn's daughter," seems to have stolen her mother's mannerisms, her voice, and her lips. Also, there's a recurring dog poop joke that tries to be a running gag, a la "Something About Mary," but frankly, I think it stinks! Paul Rudd is adorable (just as someone in my office attested) as the Affleck-Stiller-Potsie-type character. Come to think of it, I think Ben Affleck was in the movie, but to me, these guys all look alike. Courtney Love, as what is known as the "second" girl, plays a charmingly unselfconscious, nonattention stealing, yet interesting-to-watch love interest. Also in the film is Jeanine Garofalo, in an equally understated role, who ends up in bed with, well, let's just say a rock star who shares her intellect. Quirky style Martha Plimpton (who hopefully you saw as quite a schizzy character in "I Shot Andy Warhol") is the young, slightly insecure woman whose loft party draws everyone together for the finale. At one point she takes to her bed and turns on the TV, only to see the film "Love Story," the scene where Ali Macgraw says, "Love means never having to say you're sorry," which she greets with a mighty groan of understandable loathsome recognition. I'd wager the director expected the audience to react the same way.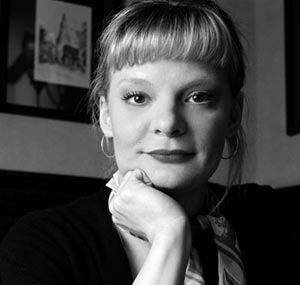 Much of the storyline is driven, if you will, by the cab driver, a funny, cute, hip, doobie-smokin' young black actor, probably of that latest generation of comedians to come up after Martin Lawrence, but I don't know who he was (note to editor re "doobie": please check for current, hippest reference to marijuana and change if nec., thanx)
And last, and maybe "least", if you believe what the girls in the film say, is a young man in the thankless role of the "bad" lover, played by an actor who can best be described as the poor man's Ewan Macgregor.
I leave the last two "older" female protagonists for last, frankly because I don't know who they are. I would say they are not professional Hollywood actors, and much of their dialogue has the awkward feel of ad-libbed or improvised text, even made me a little uncomfortable at times, but thatís what makes the film so authentic, and it is their performances that give the movie its "indie" chops.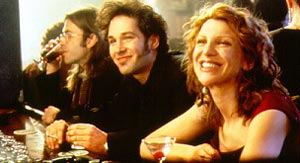 "200 Cigarettes" looks as if it was actually filmed right here in the East Village, not like, for example, that recent TV movie about the 60's that showed Bleecker Street as being a wide street with broad sidewalks, yeah, sure. We see the Odessa restaurant and St. Mark's Place and the Blue and Gold bar, and it brought back some fond memories ("Boy, I remember when that was just a burned-out crack house, and we had to step over people nodding out in our doorway. Oh, those were carefree days.").
In a funny scene in an Indian restaurant (a real restaurant! I've been in there myself! It's the little one on 6th Street; you know the one: Rose of India or something like that; it's long and narrow, like a railroad car), the Indian musicians are playing a sitar version of one of those instrumental songs from the 60's. I wish I could remember which song, it sounds kind of like "Telstar." If you ask me, I'll hum a few bars. Then, in a bar scene, there's David Johannsen! The punk scene at CBGB's, showing the origins of moshing, has the slight edge of violence missing from today's videos of blissed-out concert-goers tossing themselves safely into the crowd. There's tons of young kids roaming the streets, but without that feeling of hardness or menace that I sometimes feel in the street today; maybe it's all those piercings (if you can imagine a time without them). I always felt safe wandering the Village at even the latest hour of the night or early morning then, feeling some sense of (perhaps misguided) solidarity with "the people," all of us out to defy the 9-to-5 world, out to have a good time, and, as the song says: even "in the darkest hour, of the darkest night, beauty grows," even on Avenue B.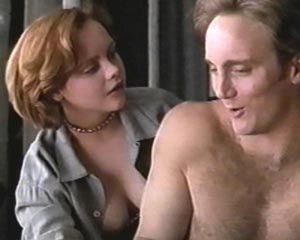 When the film ended, a slightly befuddled crowd filed out, but the woman in front of me turned and said: "I saw you writin' and heard you laffin', are you a reporter?" I'm not gonna tell you what I said, but then she asked me, "do you think there's anyone who could get me some free tix to the Whitey Houston concert coming up?" I kinda promised her and her daughter... -- Rating: $8.00
Sherry Lehman -- copyright 1999