HOLLYWOOD Outsider's art-bear movie critic, Edgar Allan Balzac, tackles movies from the independent scene. We are talking real indie films, not faux Miramax/Disney "independent" films. You'll have to drag your lazy ass down to your local film-fest to check out these monster flicks.
Sweets (2002)
Directed by Marq Morrison and Ren Morrison
Filmmakers Marq and Ren Morrison (are those real names?) have self-distributed "Sweets"; a little mock-u-mentary they produced about two friends trying to break into the carney-esque world of pro wrestling. Paul Goebel, the TV Geek on Comedy Central's "Beat the Geeks," is Sweets, a large, out-of-shape slacker who is being railroaded into a wrestling career by his long-time buddy, "Golden" Graham (Graham Elwood). Standing in their way is the sleazy owner of Global Professional Wrestling, Nate Mathews (Rus Blackwell). With "This is Spinal Tap" as the model, "Sweets" tries to do to wrestling what "Tap" did to rock and roll. Nothing is more difficult than parodying something that is a farce to begin with, like pro wrestling. It's a one-note flick. It's a decent note, but it goes on a little too long.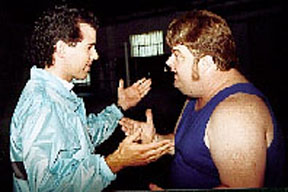 Graham and Paul are excellent as the odd-couple friends. Graham has a mullet that looks like it was lifted right off of a poodle, and has a low-rent, type-A personality to boot. He wears a different candy-colored sweat suit in almost every scene. In contrast, Paul is a large, slobby everyman with choppy sideburns and a DA. He seems most contented when sipping exotic drinks while lounging in his suburban Florida backyard. Their differing personalities are on full display when they discuss their mothers. As it turns out, their moms (Patricia Clay and Leslie Peiken, both mature ladies in their 50's) have started living together and are in love. They are also committed nudists. This is so distressing to Graham that he can barely talk about it. Typically, Paul just accepts their mom's relationship without batting an eye and moves on.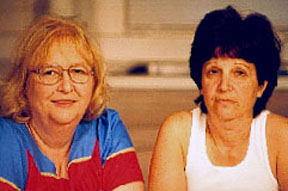 Graham and Paul share a house too, and spend each day trying to get Paul's wrestling career off the ground. Paul's training seems to consist mostly of being hit by Graham with a bamboo stick. When not beating Paul, Graham hunkers down in his office and tries to persuade Nate (owner of the GPW) to give Paul a shot in the ring. There is also a nice sub-plot involving Graham's trailer-park girlfriend, Sheila (Tara Chocol). Sheila has a habit of being camera shy when she shouldn't be, and not camera shy when she should be. All in all, the performances by the cast is great.
The story is shot on video in a competent but fairly unimaginative way. Sometimes "Marq" and "Ren" forget their documentary aesthetic and lapse into straight up fiction-style coverage. Part of the fun of the mock-u-mentary genre is how closely the documentary style is mimicked. If you've seen the "Cops" episode of the X-files then you know what I'm talking about. The more closely the source material is copied the better. However, the biggest problem here has to do with its concept. The story just isn't able to maintain interest over the course of an hour and a half. That aside, this is a good effort by all involved, especially the actors. -- Rating: $7.04
There are "bonus movies" on the DVD. Besides "Sweets," there are three extra short films; "Dammit Jim, I'm Only a Documentary!"; "Takin' it to the Mat"; and "The BVM." "Dammit Jim" is part documentary, part mock-u-mentary about the people who dress up as their favorite "Star Trek" personalities and attend "Star Trek" conventions. Paul Goebel and Graham Elwood make an appearance as two obsessive fan-club presidents. "Takin' it to the Mat" is a lowball documentary about the local wrestling scene in Florida. "The BVM" is a documentary about pilgrims frequenting a farm where the Virgin Mary has been appearing. By far, "The BVM" is the most interesting and disturbing. Especially interesting are the people taking pictures of the sky then pointing out the Virgin Mary's features in cloud formations. I guess people see what they want to see. All the photos in "The BVM" looked like breasts and vaginas to me.
Edgar Allan Balzac -- copyright 2003 Hollywood Outsider